The primary purpose of a vapor intrusion barrier system is, ultimately, to prevent any subsurface contaminated vapors from entering your structure. The big question is: How thick does your vapor intrusion membrane need to be? By the end of this face-off between thin vs. thick vapor intrusion membranes, you'll understand the pros and cons of each membrane and which type of project requires which membrane thickness.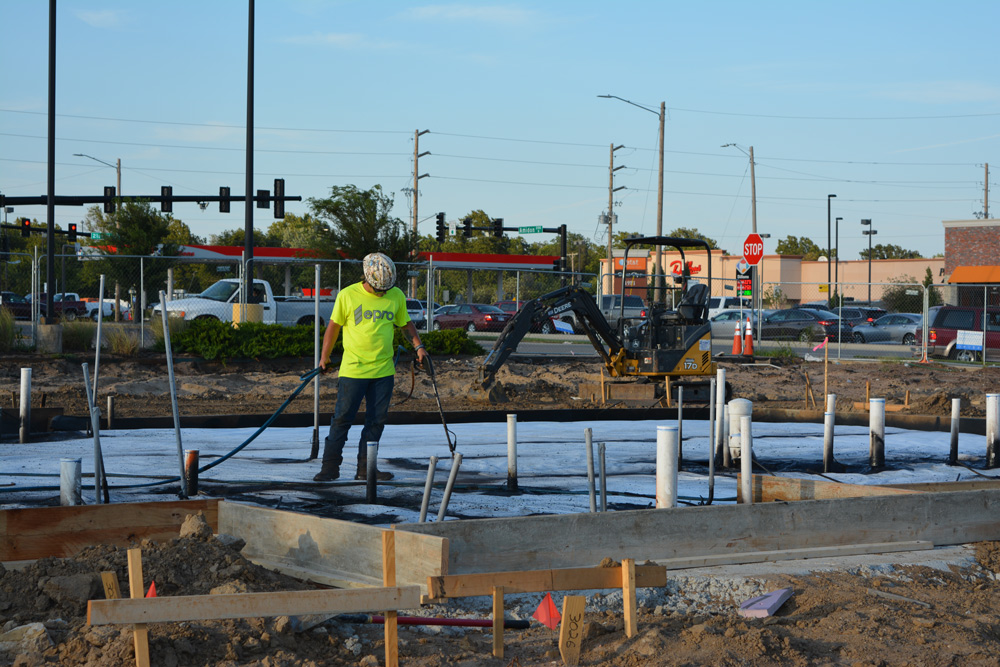 What Are Vapor Intrusion Membranes?
Environmental Consultants, state regulatory bodies and certified installers already know that vapor intrusion membranes are a barrier to block contaminated vapors — like methane gas, petroleum hydrocarbons and chlorinated volatile organic compounds — from entering your building. But do you know why the thickness of that barrier is so critical and how often it's at risk of being punctured?
The thickness of a vapor intrusion membrane directly corresponds to its ability to hold up against the rugged environment of your construction process. In simple terms, membranes can be split into two thickness categories:
Thin: 20 - 40 mil
Thick: 40 - 100 mil
How do you know which thickness to select? That needs to be evaluated based on your specific site conditions, contaminant concentration levels, building and foundation type, your waterproofing, and the indoor air environment sensitivity for your project.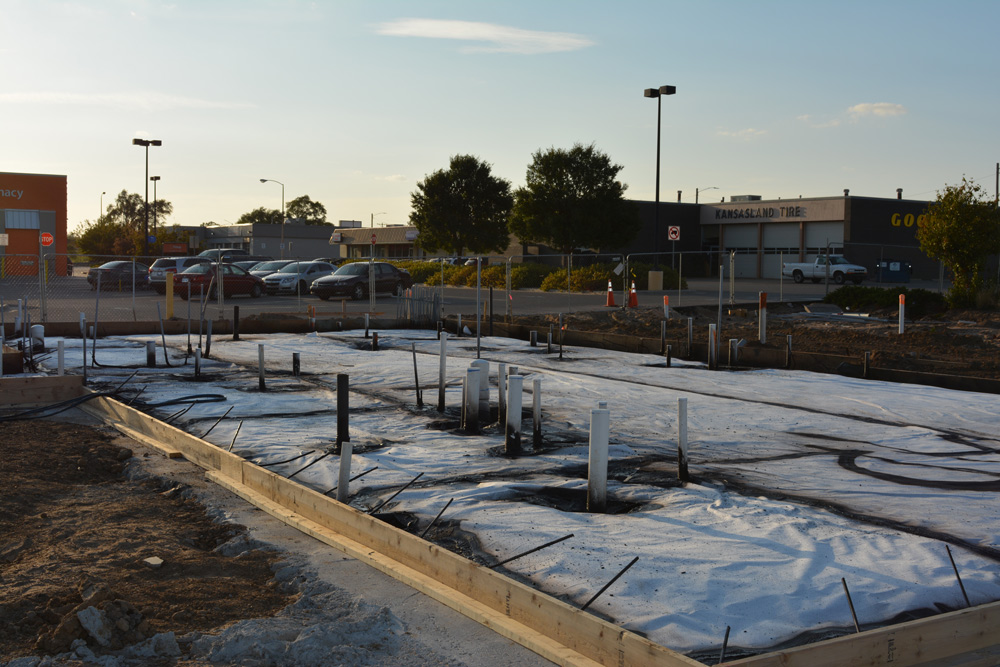 Thin Vapor Intrusion Membranes
Pros and Cons
Thin membranes can be provided at much lower cost than their thicker counterparts. When your risk for contamination is low and your site conditions are simple a thin vapor intrusion membrane may give enough durability to be safe and secure without breaking your budget.
However, thin vapor intrusion membranes often get confused with thin mil water vapors that are commonly installed by concrete contractors, meaning you don't have to use a specialized tradesperson because the only concern with water vapor barriers is moisture. Using a thin mil water vapor barrier can reduce both your timeline and cost; but often these systems come with very little quality control and assurance, meaning that you may have little assurance that the barrier you are installing to mitigate contaminated vapors will actually work.
There are thin mil vapor intrusion barriers that are installed by quality certified contractors who specialize in vapor intrusion mitigation. A skilled tradesman will know how to install these systems and provide the assurance that a thinner mil membrane system will provide a higher level of protection against contaminated vapors at a competitive price.
Vapor intrusion barrier systems are commonly installed over permeable substrates that have jagged edges, like gravel or crushed stone, which can present a threat to the integrity of the barrier. If you use a thinner membrane, your building will be more susceptible to damage when placed over stone aggregate, unless the correct thin mil system is selected.
Projects Ideal for Thin Membranes
Thinner membranes work well for a number of projects. They are ideal for large, open flat areas such as warehouses or buildings that have foundations with few penetration points. Thin membranes also work for projects that have nominal environmental risk and there is no groundwater present. They are also ideal for sites looking to optimize the performance of an active sub-slab depressurization system
However, thinner mil vapor intrusion barriers may not meet the design requirements of the engineer of record for the site, or the local state oversight agencies.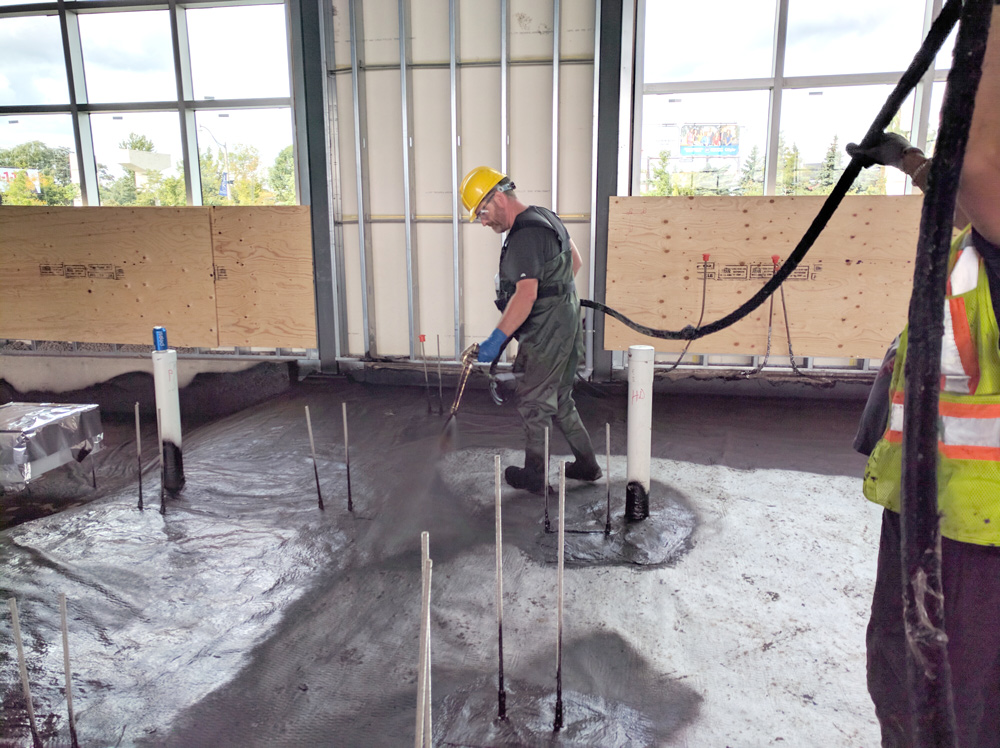 Thin Solutions EPRO Offers
EPRO offers Geo-Seal® EV40s, which is a significant improvement over existing single sheet membranes because it offers a combination of materials in a single sheet to overcome the common deficiencies of common thin mil membranes, so you get the protection you need at a budget-friendly price.
Geo-Seal® EV40s consists of an EVOH membrane combined with a robust geotextile layer to provide a single sheet vapor intrusion barrier that is chemically-resistant and easy to install, while also providing improved protection during the installation process.
Geo-Seal® EV40s is ideal for low-risk sites where site concentrations are at least at or below any state-specific screening levels. They are dependable in wide-open, large, flat sites where speedy installation times are required. It's an invaluable complement to projects that seek to implement active sub-slab ventilation systems.
Thick Vapor Intrusion Membranes
Pros and Cons
A thicker barrier will always be superior to thinner membrane systems when all other factors (cost and chemical resistance) are relatively equal.
For a high-cost, highly-susceptible-to-contamination area, a thick vapor intrusion membrane will provide better seals at seams, termination points and around penetrations. They are more equipped to withstand the construction process without sustaining any damage and to provide protection against rough substrates.
Thicker membranes also allow for protection from other trades such as rebar installers, electricians, concrete contractors and plumbers. The entire construction process can be rough and other aspects of the process pose a significant threat to the integrity of the vapor intrusion barrier. When it comes to your vapor intrusion membrane, thicker is better.
Thicker membranes have superior warranties compared to thin mil systems, which are commodity products so low in cost that manufacturers just can't afford to support them with a meaningful warranty. Choose thicker if you want peace of mind and for your project to have better protection.
Thicker membranes will require specialized installers; to ensure the product is being installed correctly. Some view a specialized installer as a con, but the reality is, having a trained and certified installer that knows all the specific intricacies of a successful installation is absolutely crucial when it comes to installing a system that is designed to protect human health.
When you choose thicker membranes, installation protocols must be followed exactly so they provide greater redundancy and durability.
Thicker membrane systems allow for a wider range of applications as systems can be properly scaled to meet site conditions, remain intact and adhered to the foundation when soil settlement occurs, and easily conform to complex foundations.
Projects Ideal for Thick Membranes
Thicker vapor intrusion membranes are always the top choice for a project, but there are specific project sites that essentially require a thicker membrane to ensure protection.
Thicker is legitimately necessary if:
You have multiple penetrations.
You expect to have ground settlement.
Your concrete foundation slab is thicker than 4" thick.
You have shallow groundwater conditions.
Your membrane has to adhere directly to the foundation.
Your foundations are complex with frequent terminations.
Your elevations vary or require the membrane to conform to a foundation that is not flat.
You'll have extra foot traffic from other trades post-membrane installation.
You have elevated contaminant concentrations above state-specific screening levels.
Having a thick vapor intrusion membrane for your project helps preserve a healthy indoor environment for you and your client. If healthy air and peace of mind are valued above cost for you, thicker membranes are the best choice.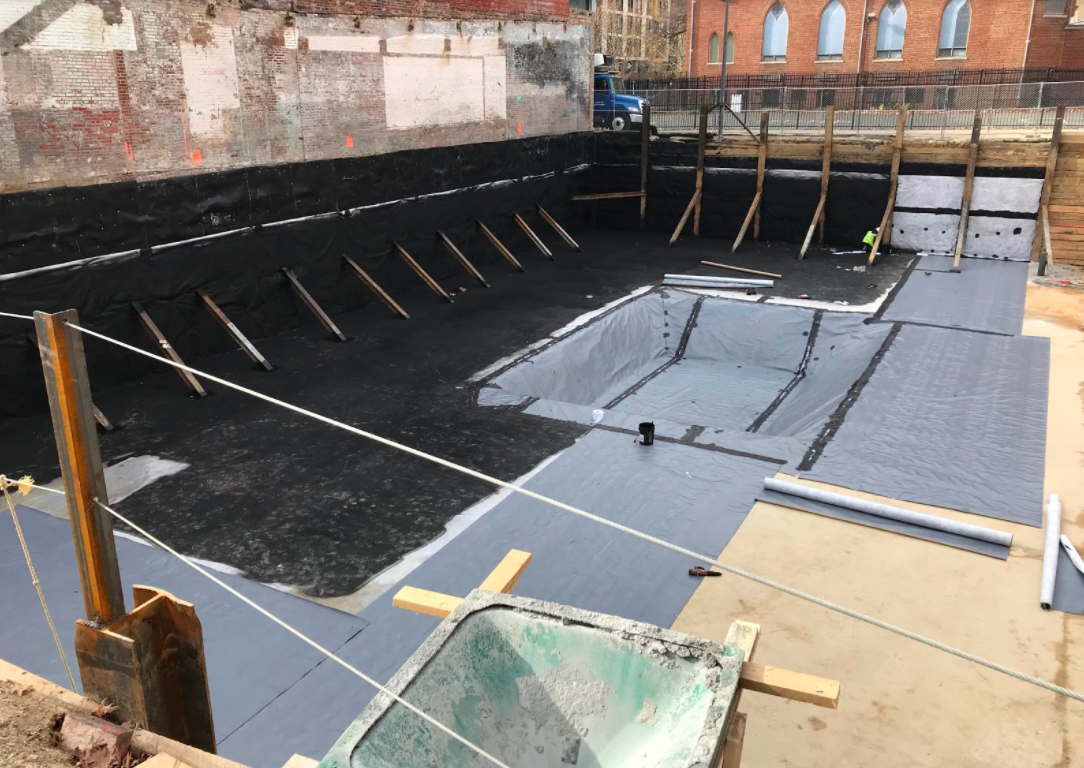 Thick Solutions EPRO Offers
EPRO offers three thick vapor intrusion membrane solutions: Geo-Seal® 60, Geo-Seal® EV80 and Geo-Seal® 100.
Geo-Seal® 60 is designed to provide a cost-effective alternative for construction sites looking for pre-emptive mitigation solutions, but also wish to have a more robust and resistant vapor intrusion barrier compared to single sheet thin membranes.
Geo-Seal® EV80 is a 79 mil thick composite membrane that uniquely combines an Ethylene Vinyl Alcohol (EVOH), HDPE and spray-applied polymer-modified asphalt to create a composite vapor intrusion barrier system that addresses a wide range of project conditions and contaminations.
Geo-Seal® EV80 is ideal for development projects that are willing to compromise on total system thickness and some barrier durability but still desire a highly chemically-resistant barrier. It has three distinct layers: Geo-Seal® EV30, Geo-Seal® CORE and Geo-Seal® BOND.
Geo-Seal® 100 is an industry-leading, patented sub-slab vapor intrusion barrier system that eliminates vapor intrusion for brownfields or any environmentally-impaired site. Similar to Geo-Seal® EV80 — but supercharged — Geo-Seal® 100 layers consist of Geo-Seal® BASE, Geo-Seal® CORE (60 mil) and Geo-Seal® BOND.
Installed between the foundation slab of the building and permeable subgrade, Geo-Seal® 100 eliminates vapor intrusion pathways and stops contaminant vapors from migrating through the slab and into a building. For the ultimate protection, Geo-Seal® 100 is the most trusted.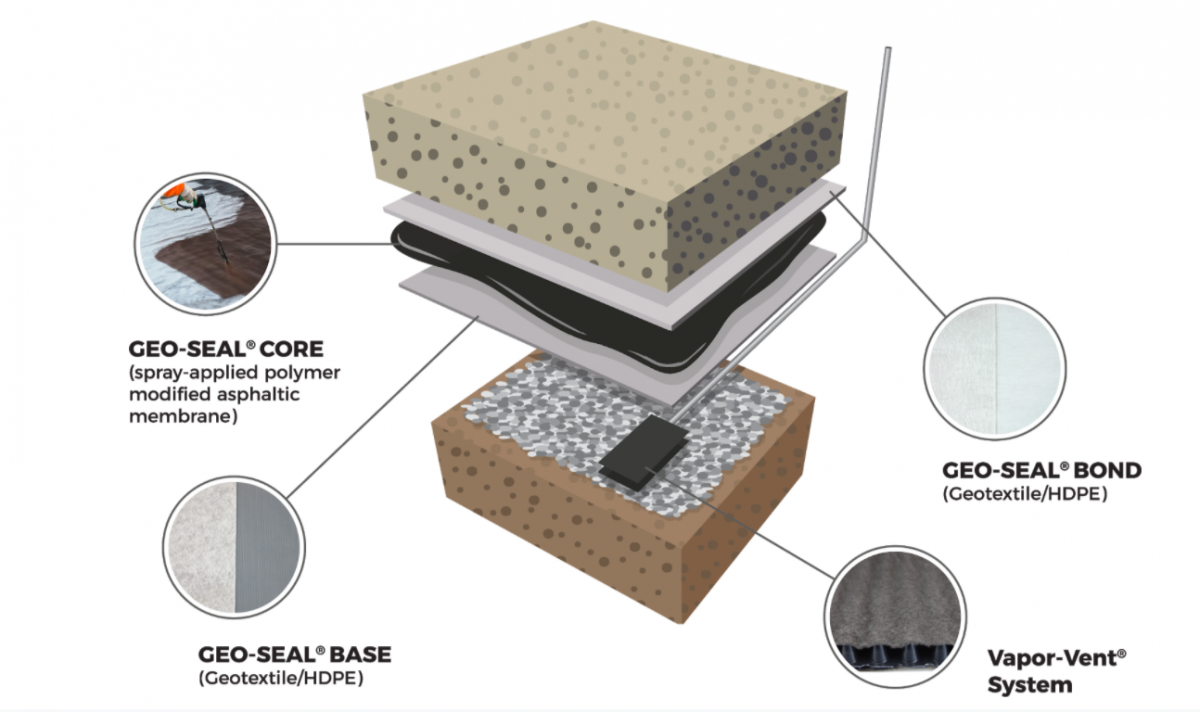 Want to learn more about which vapor intrusion membrane is best for your project? Reach out to EPRO for answers to all your questions and to collaborate on your next project.