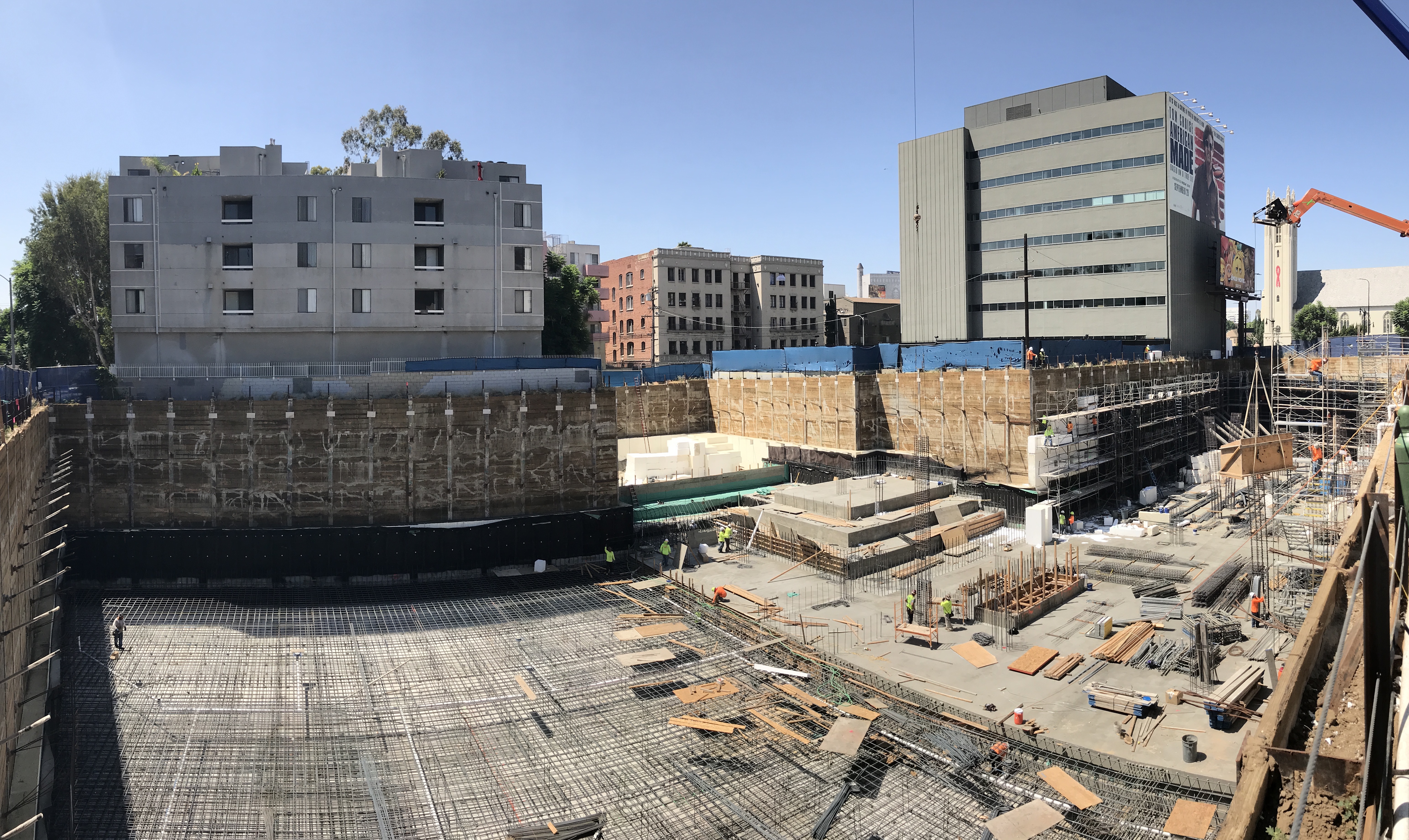 E.Protect+ from EPRO is a field-installed composite waterproofing and contaminant barrier system. E.Protect+ is chemical resistant, backed by a full system warranty and engineered with redundant layers of protection to ensure that buildings remain dry and safe.
The E.Protect+ composite waterproofing system is designed specifically for those who require the highest level of building protection.
Key Features of the E.Protect+ System
Here are some key features that set E.Protect+ apart from other comparable waterproofing and contaminant barrier alternatives.
Redundancy
Below-grade building foundations are being built deeper and under more strenuous conditions than ever before, making protecting the building envelope even more challenging. And it's not just the job site conditions that are strenuous thanks to contaminate soil conditions and hydrostatic conditions, but the construction process as well, thanks to zero lot line construction, along with the potential for damage to waterproofing protection due to the constant influx of machinery and workers after the system is installed.
Every individual waterproofing material has its advantages and limitations. That's why E.Protect+ combines three layers of different waterproofing materials to maximize the benefits and lessen limitations, resulting in a redundant system that is superior to using each material independently.
E.Protect+ is a seamless system that fully adheres to any concrete overlay. It provides consistent, durable protection that can be installed in a fraction of the time of other waterproofing solutions.
Chemical Resistant
E.Protect+ is a dual-purpose product that waterproofs a structure and serves as a contaminant barrier that eliminates contaminant vapor intrusion.
Methane gas, petroleum hydrocarbons, chlorinated volatile organic compounds (CVOCs) and other contaminants found in soil and groundwater are a commonly present threat to keeping buildings dry and unwanted gas or chemical vapors out.
Thanks to EPRO's long history of preventing methane gas and contaminant vapor intrusion, we have a deep understanding of how our products resist the chemicals of concern commonly found on brownfield sites. Our products go through extensive independent testing, and we are constantly researching innovative safety solutions for the future.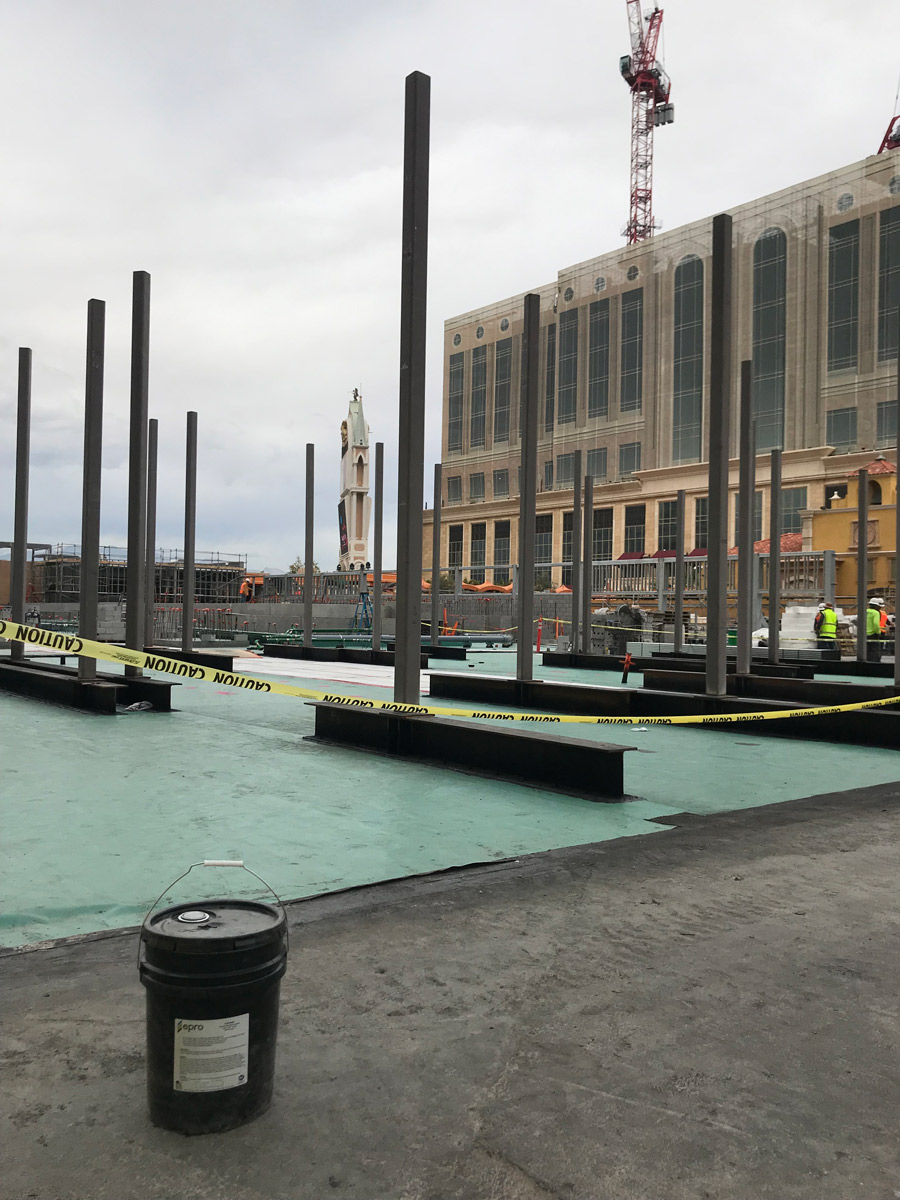 Warranty
We're proud to offer an industry-leading E.Assurance NDL (No-Dollar-Limit) Warranty with our E.Series composite systems. EPRO is fully committed to our waterproofing systems' effectiveness and we'll happily repair any deficiencies to the EPRO system after installation so long as the terms and conditions of the E.Assurance program are met.
Our warranty service options ensure complete satisfaction and offer peace of mind to our clients who know that EPRO will be there for them if anything unexpected happens.
Cost
E.Protect+ is easy and quick to apply. Using an E.Protect+ composite waterproofing system cuts down on installation time, materials and labor to keep your project on budget and on schedule.
Our product combines three protective systems into one to maximize your budget with minimal seams to ensure a swift and easy installation process. There is no need to install different products for different waterproofing and vapor intrusion solutions when E.Protect+ combines all these materials into one protective solution.
Four Main Applications
E.Protect+ is categorized into four distinct applications: Underslab, Blindside Shoring, Wall and Deck.
Underslab
E.Protect+ Underslab waterproofing is the first system ever developed for underslab applications that combine together into one system what others may do in three completely independent systems. It is fully waterproof and provides unparalleled building protection site contamination.
The E.Protect+ Underslab pre-applied waterproofing system is compatible with all building foundations, and installation is fast and easy with its seamless design. For instance, click here to see how one luxury multifamily building in California used E.Protect+ Underslab to protect their project despite fault lines and other challenges.
Blindside Shoring
E.Protect+ Blindside Shoring is appropriate for cast-in-place poured concrete or structural shotcrete. It can be applied to different shoring methods, including soldier pile, back lagging, shotcrete soil nail, internal rakers, caissons, secant walls and sheet piles. It's also great for waterproofing basement walls and for use as a blindside waterproofing membrane.
E.Protect+ Blindside Shoring is also less sensitive to weather than comparable systems, and it does not require any additional protection before concrete placement. The system also mechanically bonds to any concrete overlay, including shotcrete. Click here to read how the Water's Edge Complex protected against extremely shallow groundwater, naturally occurring methane gas, and residual contamination.
The easy-to-install seamless, layered sheets provide quick water- and vapor-proof protection without setting back your timeline.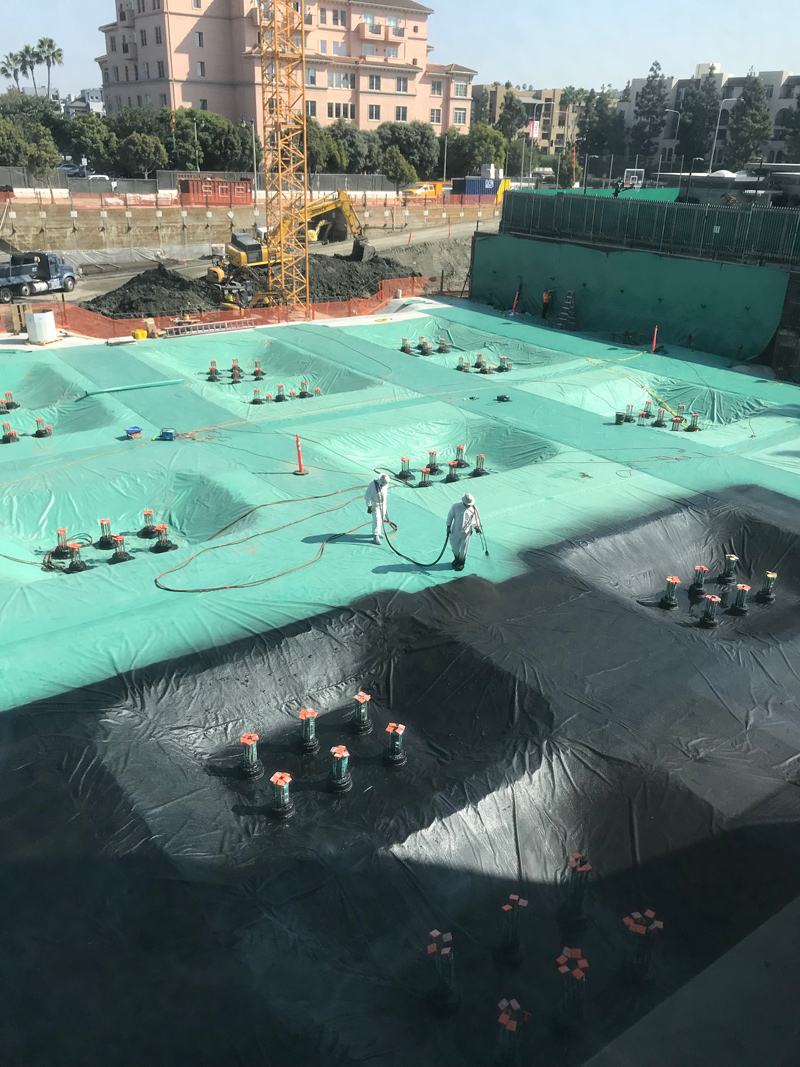 Wall
E.Protect+ Wall is a fully bonded, post-applied waterproofing system made up of all three waterproofing types: spray-applied polymer modified asphalt, bentonite and a polyolefin sheet.
E. Protect+ Wall is compatible with all different types of over-excavated wall construction, two-sided formed walls, single-sided shotcrete, precast concrete, insulated concrete forms (ICF) and concrete masonry units (CMU).
Deck
E.Protect+ Deck waterproofing system is designed for projects where durability and performance are paramount. It combines the benefits of a thermoplastic membrane protection course with two layers of reinforced monolithic fluid-applied membrane.
E.Protect+ Deck can be applied in poor weather conditions with none of the concerns about safety or fumes you may have in hot rubber application systems. There is also no additional protection required before concrete can be poured.
It can be used in various podium applications with concrete topping slabs, pedestal and paver systems, green roofs and planters.
Considerations To Keep in Mind
E.Protect+ waterproofing systems are designed with layered materials to maximize effectiveness and productivity and to minimize material limitations. However, there are always unique application considerations to take into account.
While E.Protect+ can be applied in some less-than-ideal weather conditions, extreme weather may delay the installation process, especially in underslab, shoring or wall applications.
It is also recommended that sites with brackish water or existing contamination undergo compatibility testing to ensure the product is the best fit.
What Clients Have to Say about E.Protect+
"The best part about working with EPRO was being able to make the waterproofing system function in tricky conditions." – Josh Osorio, Assistant Project Manager for McCarthy Building Companies, Inc. (Click here to read the case study.)
"We had to choose EPRO: It sets up extremely quickly, installation time is fast, and everything worked out really well." – Cid Caba, Waterproofing Consultant, Independent Roofing Consultants (Click here to read the case study.)
Contact Us Today
Looking for an innovative, triple-protection waterproofing and contaminant barrier system where all the hard work is already done for you? Contact us today to find out how EPRO's redundant E.Protect+ system can work for your next project.