Whether you are working on a new build or a commercial renovation, the best way to protect your building project is to choose the right waterproofing solutions during your initial design phase.
Water intrusion can be one of the biggest sources of damage your building can face. Choosing the right commercial waterproofing solution needs to happen at the design stage to protect your building from the foundation up.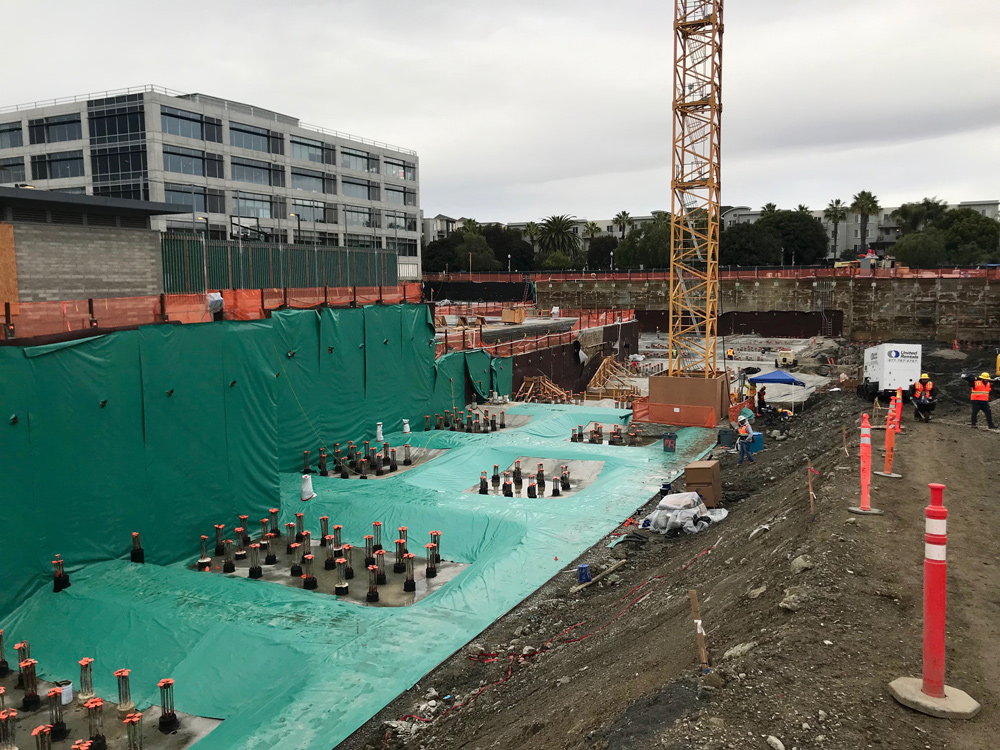 Factors to Consider
There are several important factors to think about when you are deciding which product, application and membrane waterproofing system you should use for your project. You need to take into account your:
Construction methodology
Depth to groundwater
Presence of contamination
Temperature limitations
Drainage
Insulation
Structural integrity
Building codes
Detailing
Penetrations
Cracks
Expansion joints
If Your Project is Complex
If your building project sits between other buildings, it's possible that your access to the foundation is limited. You should consider using blindside waterproofing. While blindside waterproofing is considerably more complex than traditional post-applied, below-grade waterproofing, it doesn't have to set back your timelines.
Blindside waterproofing is commonly used for projects that are located in densely populated areas. It can be used on any type of building, including office buildings, medical facilities, multifamily developments and transportation venues (i.e. subways).
A great example of a successful, highly complex waterproofing project is the 1840 Highland Ave Apartments project.
"There were some real twists to the project, including two fault lines under the cantilever of the building and the water table, which sat at different levels," said Josh Heidt, CP, Terra-Petra, who was contracted to provide waterproofing consulting services. "The building owner and general contractor were not thrilled; they didn't want one drop of water entering the building, as there was the issue of bulk water entering."
The team determined that E.Protect+ Underslab was the best solution to protect the building foundation and blindside vertical walls from water intrusion. Above the design water table, E.Protect+ transitioned to the E.Proformance Shoring system.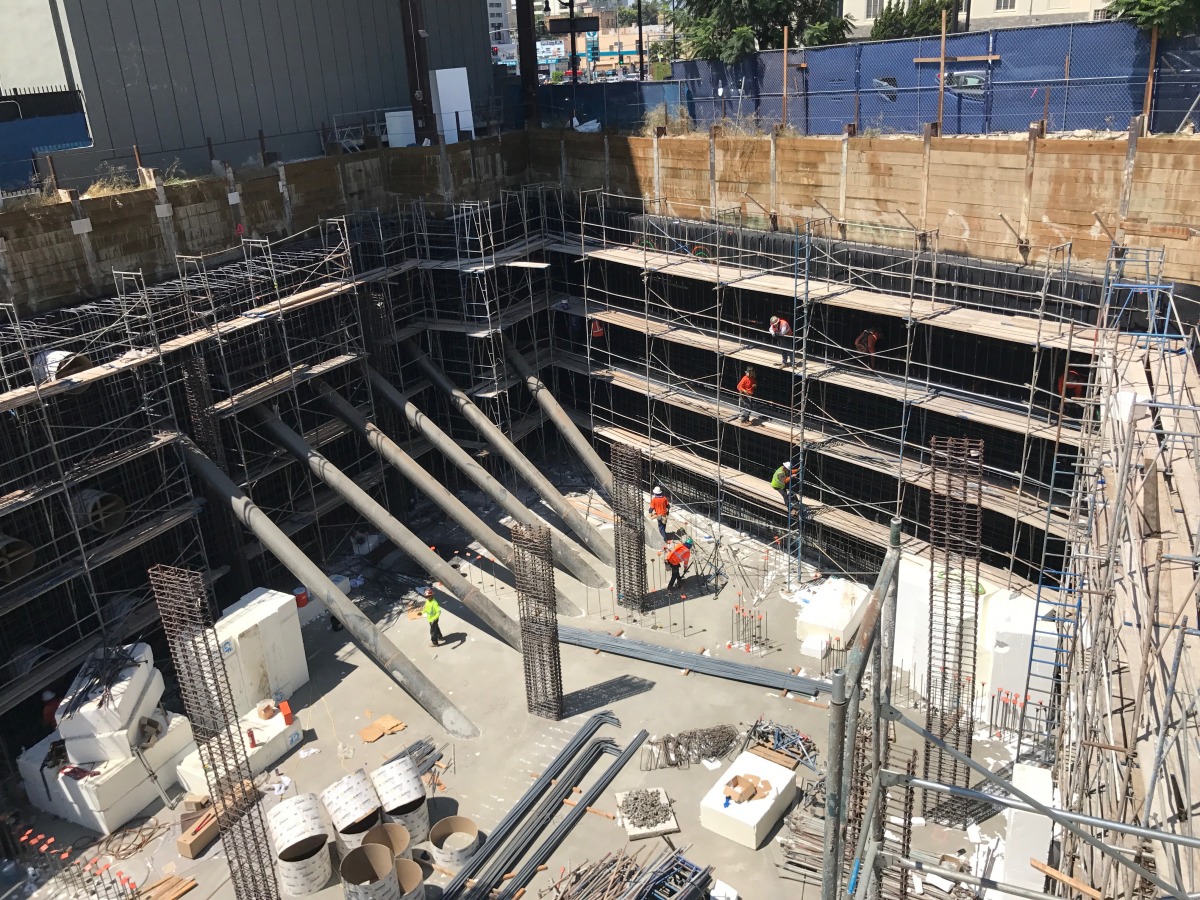 Complexity increased as EPRO's negative-side waterproofing systems were applied directly to Geofoam layers for below-grade waterproofing purposes. The transition between E.Protect+ (hydrostatic) and E.Proformance (non-hydrostatic) was at 2 feet, 0 inches above the high historical water table level and extended to grade.
If Your Project is Above-Grade
Above-grade waterproofing solutions have to be watertight, resistant to UV light, adaptable to a wide range of temperatures, and pleasing to the eye because it is out in the open and not hidden below the surface. Balconies, parking decks, rooftops and plazas all need waterproofing protection from moisture intrusion.
Two commercial solutions for above-grade projects are EPRO's Deck Protection Systems. If you need two layers of reinforced membrane on a large project, go with EPRO's E.Protect+ system. If your project is small and lightweight, go with EPRO's E.Proformance System.
You can also use either HydroGel or HotDeck for your above-grade project. HotDeck is a hot fluid-applied waterproofing system that features a 215-mil reinforced layer of HD.membrane, a hot fluid-applied rubberized asphalt with reinforcement, that cures to form a seamless and fully bonded membrane.
HydroGel is a horizontally- and vertically-applied hot spray-applied polymer rubber gel that is used for both pre- and post-applied waterproofing systems for above- and below-grade construction. It's great for construction where seismic events, foundation settlement, structural vibration/movement and thermal cycling conditions are a concern.
If You are Unsure of the Soil Composition
The composition of your soil plays an important role in what waterproofing solution you choose. If you find yourself unsure of the exact composition, consider using a fully-bonded waterproofing system.
PreTak is a fully-bonded waterproofing system that is ideal for projects with poor soil composition as, if the soil fall away from the foundation, the PreTak system still remains fully bonded to the concrete surface.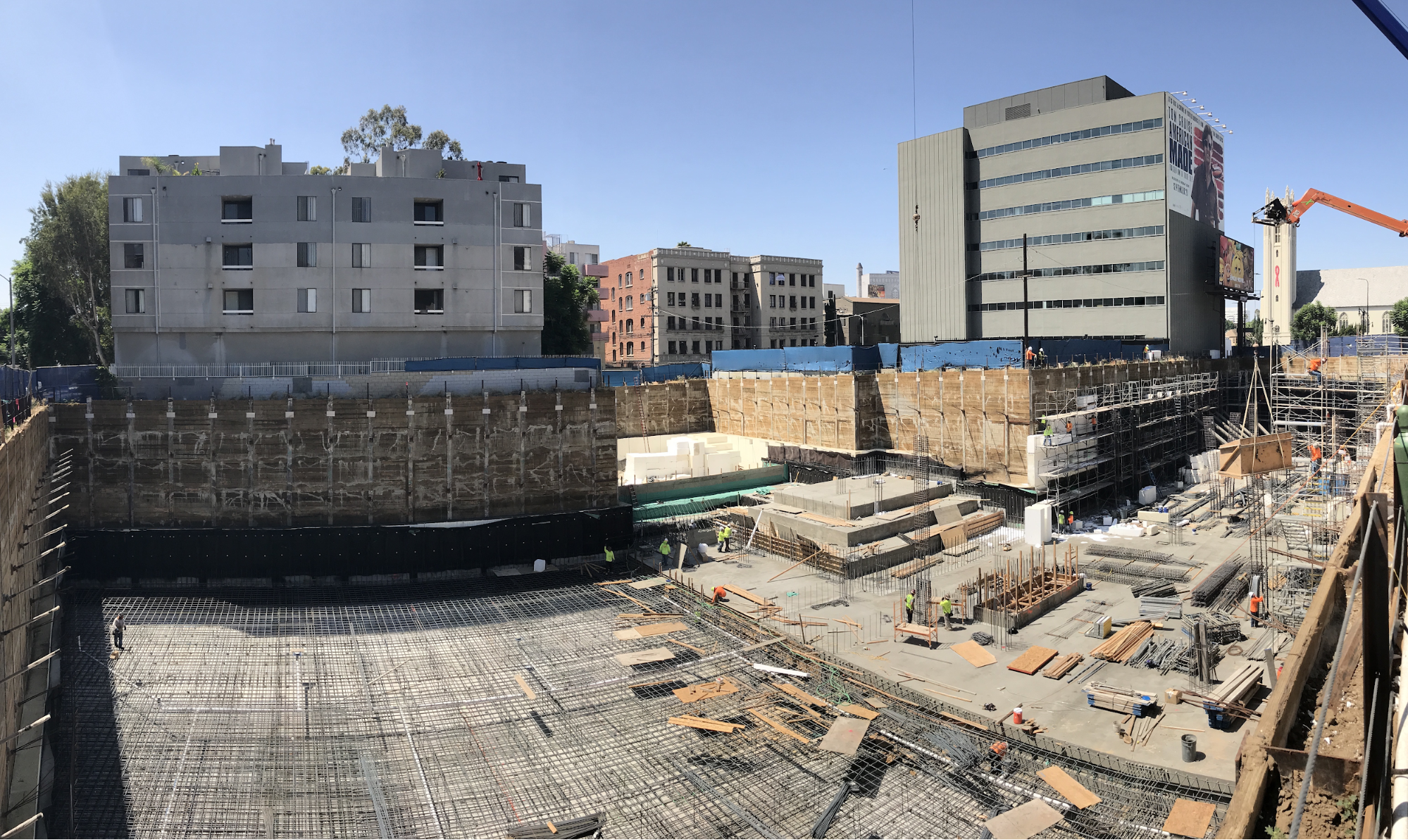 If Your Site Conditions are Highly Contaminated
If you find that you have elevated contaminant concentrations above state-specific screening levels or groundwater is contaminated, a waterproofing system that can mitigate vapor intrusion membrane must be a part of your chosen solution.
Thick membranes like E.Protect+ are perfect solutions for projects that have contaminated soil and groundwater. The triple layer system consisting of a heat-welded HDPE membrane, 100 mils of polymer modified asphalt, and bentonite geocomposite membrane provides a high level of chemical resistance to contaminants and provides redundant waterproofing production.
This is the waterproofing solution for decision-makers who value peace of mind over cost and, above all, want to have a dry structure while preserving a healthy indoor air environment for their building owners and occupants.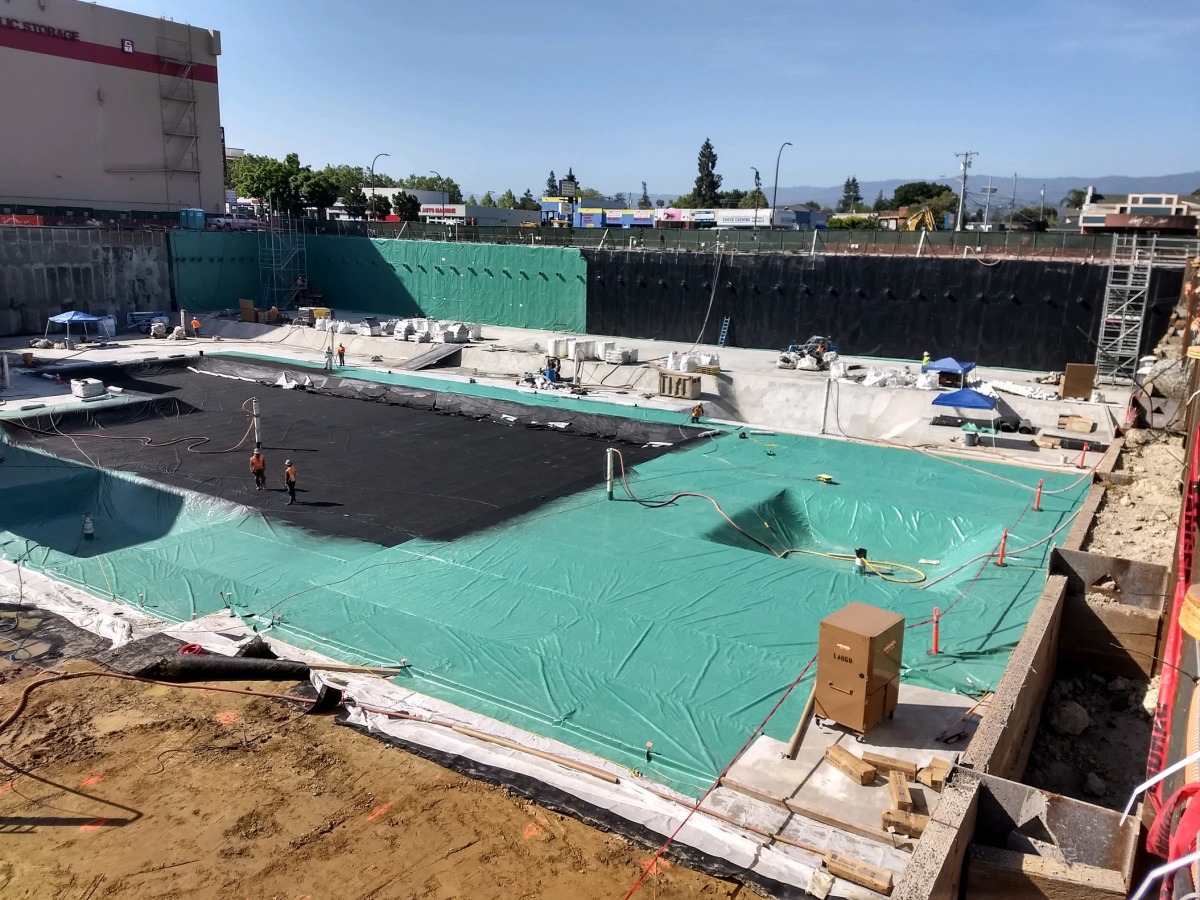 If Your Project Has a Tight Schedule
Missed construction deadlines and delays can add unnecessary costs to your project. To ensure your project runs efficiently, consider a redundant composite field-installed system, such as E.Protect.
E.Protect has the ability to be installed in approximately half the time. It strikes an ideal balance between performance and budget considerations and can be categorized by four distinct applications, based on your needs: Underslab, Shoring, Wall and Deck.
This product also has less weather sensitivity and can be installed in less-than-ideal weather conditions unlike other waterproofing products. It is ideal for below-grade building foundations requiring waterproofing protection with its three redundant layers, but where site conditions, timelines or budget considerations may not require the absolute best EPRO has to offer.
Five Star Development was in charge of constructing a large underground parking facility for the Ritz Carlton in Arizona. They originally were going to use a peel-and-stick membrane for waterproofing, but their timeline needed a faster solution.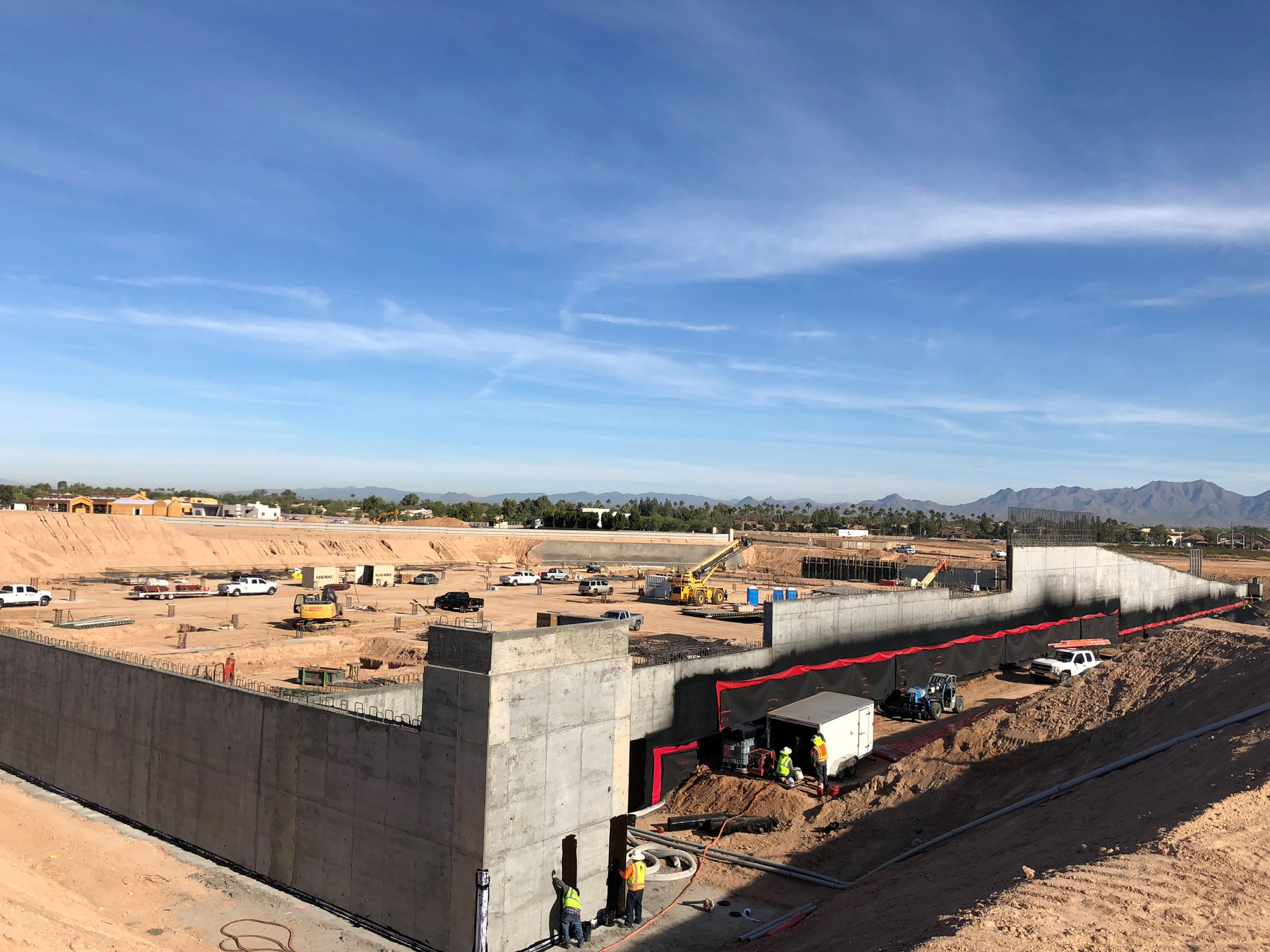 Their General Contractor confidently went with EPRO's e.spray fluid-applied system because of its ability to be applied on green (uncured) concrete, drastically speeding up the construction schedule.
EPRO's Solutions
EPRO offers a "good - better - best" system for their E.Series, which allows customization and flexibility to perfectly match an EPRO system to your project based on budget, site condition, construction materials, timeline and desired level of protection. EPRO can be the #1, single-source provider for your entire project.
Click here to sign up for EPRO's no-obligation assessment and find a solution that works the best for your project.