The Best of the Best in Hot Fluid-Applied Rubberized Asphalt
HotDeck is a waterproofing protection system that features a 215 mil reinforced layer of HD.membrane, a hot fluid-applied rubberized asphalt with reinforcement. The system cures to form a seamless, fully-bonded, thick, tough, yet highly-flexible waterproofing membrane.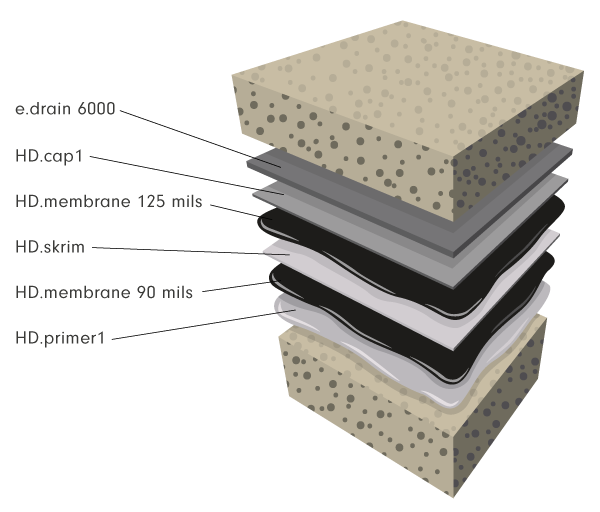 Ideal for split-slab deck applications, as well as pedestal paver decks and vegetative decks, the HotDeck system is comprised of:
1st Layer: EPRO HD.membrane 90 mils
2nd Layer: EPRO HD.skrim reinforcement
3rd Layer: EPRO HD.membrane 125 mils
4th Layer: EPRO HD.cap1 or HD.cap2 — a premium polymer modified fiberglass protection sheet
EPRO e.drain 6000 — a lightweight three-dimensional, high-compressive strength polypropylene core and bonded non-woven geotextile fabric.
Together, components of HotDeck protect the rubberized HD.membrane from physical damage through the construction process, UV, and beyond, as well as provide redundant layers of long-term waterproofing protection.
HotDeck Resource Library