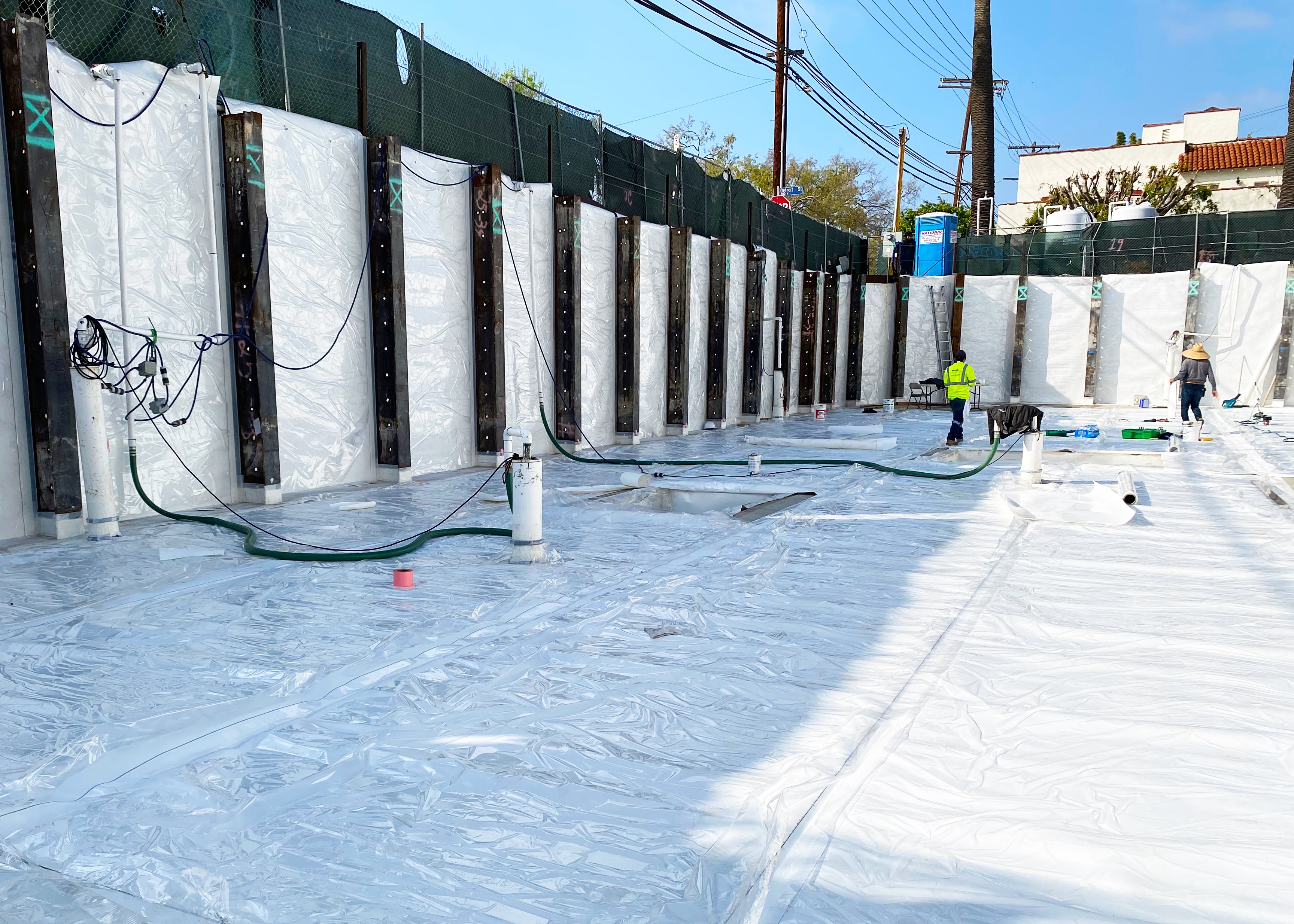 One of the most important considerations in building construction is choosing the right types of waterproofing materials for your building. New construction foundation waterproofing protects your building and its occupants from water intrusion — one of the most pervasive and difficult to control issues for any building owner or operator.
Knowing how to properly waterproof the foundation of a new building will result in a dry and safe below-grade environment that keeps interior building systems and occupants protected from the elements, including heat, cold, wind and water.
Here is a quick review of important things you need to know about waterproofing your foundation.
Things To Do Before Waterproofing a New Building
There are three main areas of your project you need to first evaluate in the design phase before you choose your waterproofing materials.
1. Site Assessment
Determining how your site conditions will impact installation is a good first step in pre-planning for a successful waterproofing project. There are a few important questions to ask about the job site, so you understand how to narrow down your product options.
Site Factors to Consider:
Is your project above-grade or below-grade?
What is the overall size of the space that needs waterproofing?
Determine the slope and drainage included in the design.
Find out if there are contaminants in the water.
What are the desired durability and the necessary level of redundancy needed to protect your building?
2. Coordinating with Trades
Efficiency is critical in any project, and waterproofing installation must be installed correctly and per the manufacturer's requirements to reduce the chance of water intrusion. It's critical to coordinate all processes with your general contractor to guarantee proper installation.
Ensure your waterproofing can withstand exposure to the other construction processes between applications. Depending on the type of waterproofing you choose, the process may need to take place during multiple phases of the project which means there will be time between applications.
3. Product Review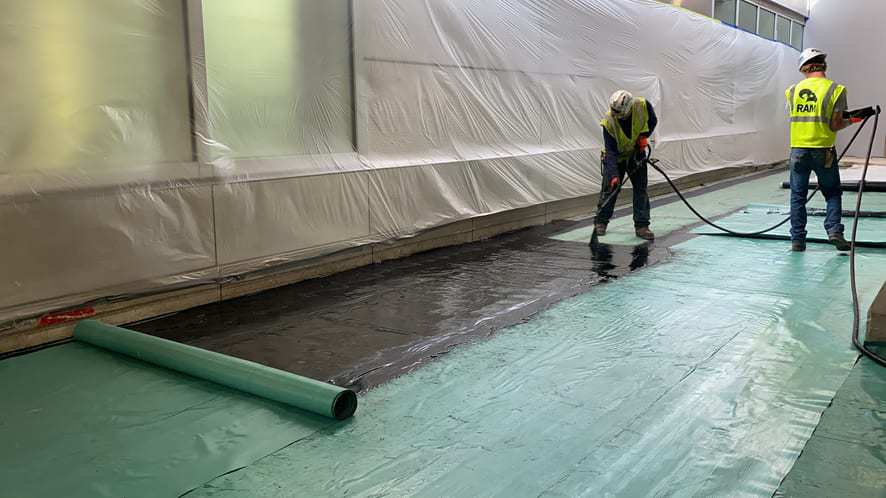 There are several types of foundation waterproofing options available, and it's good to know exactly what you need before choosing the right membrane for your project. Waterproofing materials will often fall within a few distinct categories.
Above-Grade and Below-Grade Products
Above-grade products are used for areas like balconies, parking decks, rooftop terraces and plazas that need waterproofing to protect the building envelope from water and moisture. These products must be watertight, adaptable to a range of temperatures and, in some cases, resistant to UV light and aesthetically pleasing.
Below-grade materials are used for concrete foundations that have the potential to experience continual hydrostatic pressure. New construction sites are sometimes situated on brownfields or repurposed industrial properties. These sites often have groundwater contamination and will require a product that mitigates vapor intrusion by keeping out solvents and other organic chemicals along with the water.
Sheet- and Fluid-Applied Systems
Once you know which product you need, there are two types of membranes to choose from. Sheet-based membranes come in rolls and are laid onto firm surfaces, like a building's foundation. They can be made from a wide variety of materials, like HDPE, butyl, PVC, bentonite or combined to form composite materials.
Fluid-applied membranes are either sprayed or rolled onto surfaces, creating a seamless, joint-free membrane. They can be preferred because they are seamless, but it is important to know the thickness required for your building conditions.
Look Out for These Common Mistakes
There are a few pitfalls that can often occur during the waterproofing process but are easily avoided if you know to watch for them. Understanding these common waterproofing issues can benefit the entire construction process and add years of life to your building.
Special Circumstances: If the general contractor is facing an unusual arrangement that demands sophisticated design, relying on standard details is probably not sufficient. Be aware of any unusual intersections, multiple penetrations or different conditions that may require more elaborate detailing. Sometimes these specifics are left to the discretion of the contractor, and they will need to know how to address them properly.
Insufficient Quality Assurance: A job site should always have an on-site architect or engineer present to ensure quality control and guarantee all work is done according to plan. They will also be able to guide the general contractor when it comes to making changes or protecting materials, as detailed below.
Last-Minute Changes to Building Details: There is always a chance that site conditions end up being different than what was planned for on paper or something changes the site dynamics. If last-minute changes are implemented by an on-site architect or engineer, be sure that the general contractor understands how to protect the waterproofing membrane in case these changes have the potential to cause damage.
Keeping the Site Dry: Always have a dewatering system in place before you begin construction. A dewatering system can either lower the water table if needed or help remove any groundwater and superficial water from the site. There are many types of dewatering systems available such as submersible pumps, self-priming pumps or borehole pumps. Which system is required will depend on your job site needs.
Material Doesn't Match the Project Needs: Choosing the wrong waterproofing materials can lead to leaks. It can also compromise the integrity of other concrete building envelope elements, causing the premature failure of many internal and external building materials.
EPRO Can Help You Choose the Right Foundation Waterproofing Products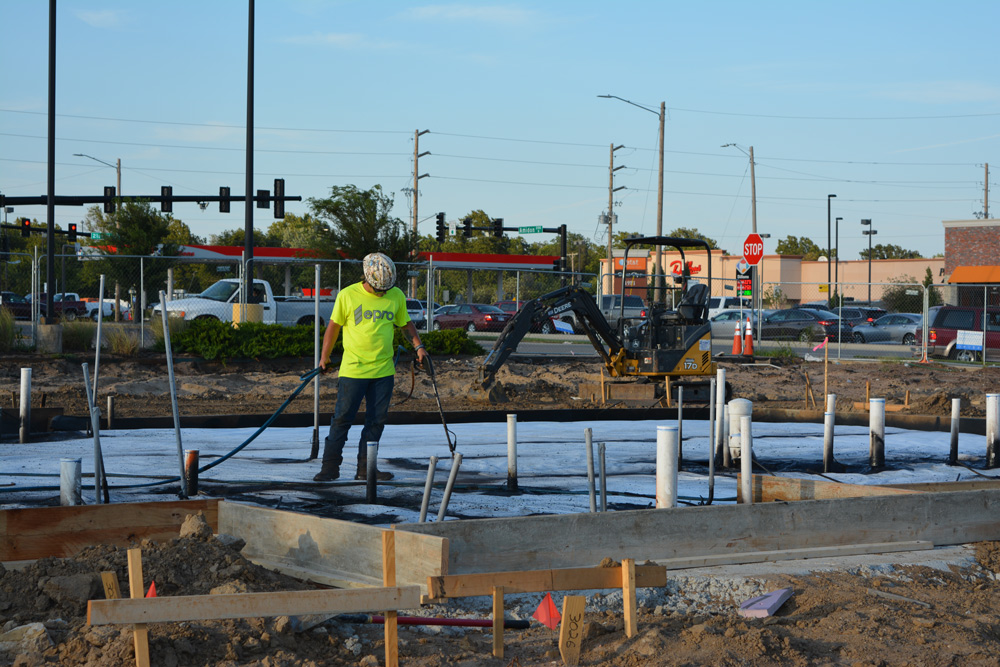 It's always a good idea to speak with an experienced advisor who can help you evaluate project needs and select the right waterproofing system for your project and budget. We at EPRO offer foundation waterproofing systems for various application needs and requirements, giving you a wide range of customization and flexibility.
Contact our EPRO experts to help match the right EPRO system to your project based on budget, site conditions, construction materials, timeline and desired level of protection.