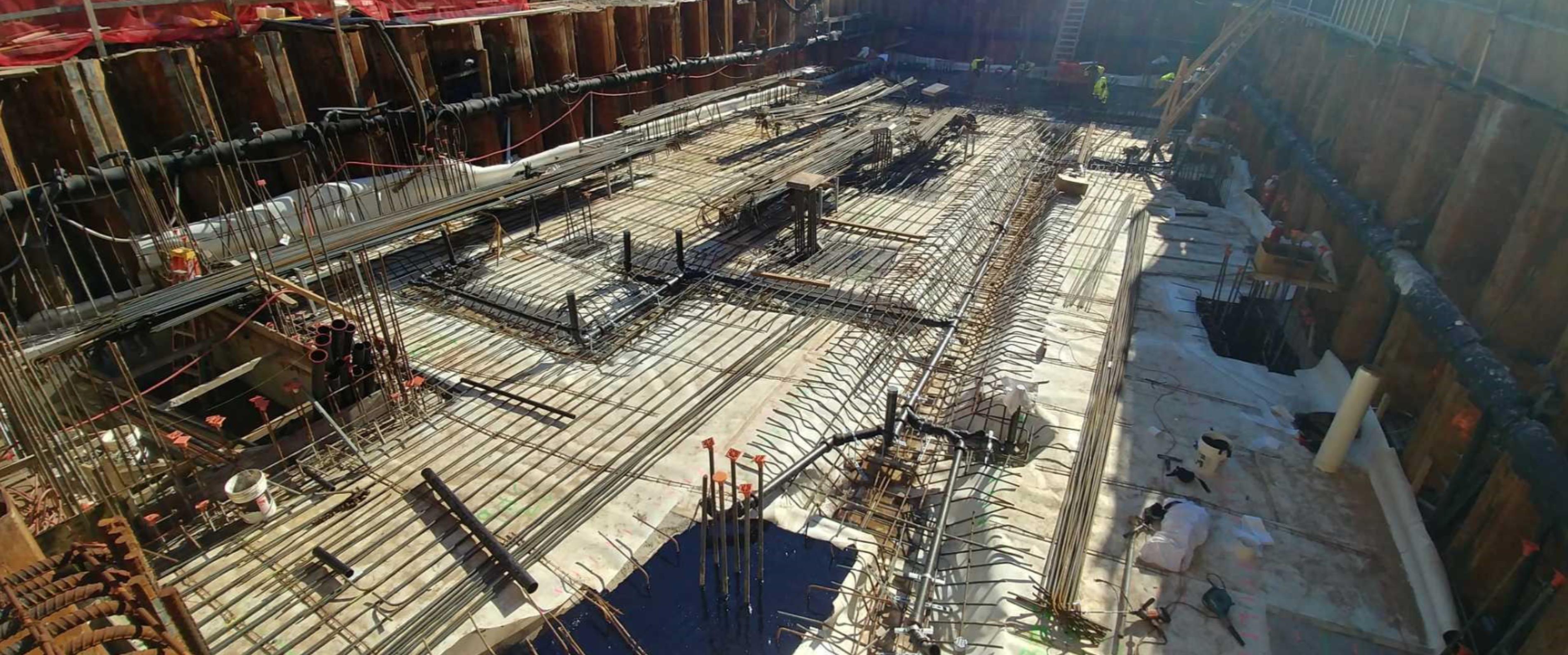 EPRO's PreTak Sheet Waterproofing System is the latest generation of pre-applied waterproofing membranes.
PreTak is a pre-applied HDPE sheet waterproofing membrane combined with a pressure-sensitive adhesive backing. PreTak's fully adhered mechanical bond to cast-in-place concrete and shotcrete offers superior protection from water intrusion, chemical ground contaminants and methane gas.
Proven and effective, PreTak has a successful track record of performance for over 25 years and is used on projects around the world.
PreTak Pre-Applied Waterproofing Features
PreTak has several qualities that make it a superior pre-applied waterproofing membrane option available on the market:
High-Density Polyethylene (HDPE)
PreTak is comprised of a high-density polyethylene (HDPE) sheet that, once installed, provides a tough and durable waterproofing membrane. HDPE withstands punctures and tearing, so projects stay protected as follow-on trades perform their work on top of the installed membrane.
Pressure-Sensitive Adhesive
The PreTak system combines a robust HDPE waterproofing and contaminate barrier membrane sheet with an integrated, specially-formulated Pressure-Sensitive Adhesive (PSA). Freshly placed concrete or shotcrete fully adheres to the PSA when applied to it.
This eliminates the potential for lateral water migration by forming a continuous adhesive bond and keeps below-grade projects protected.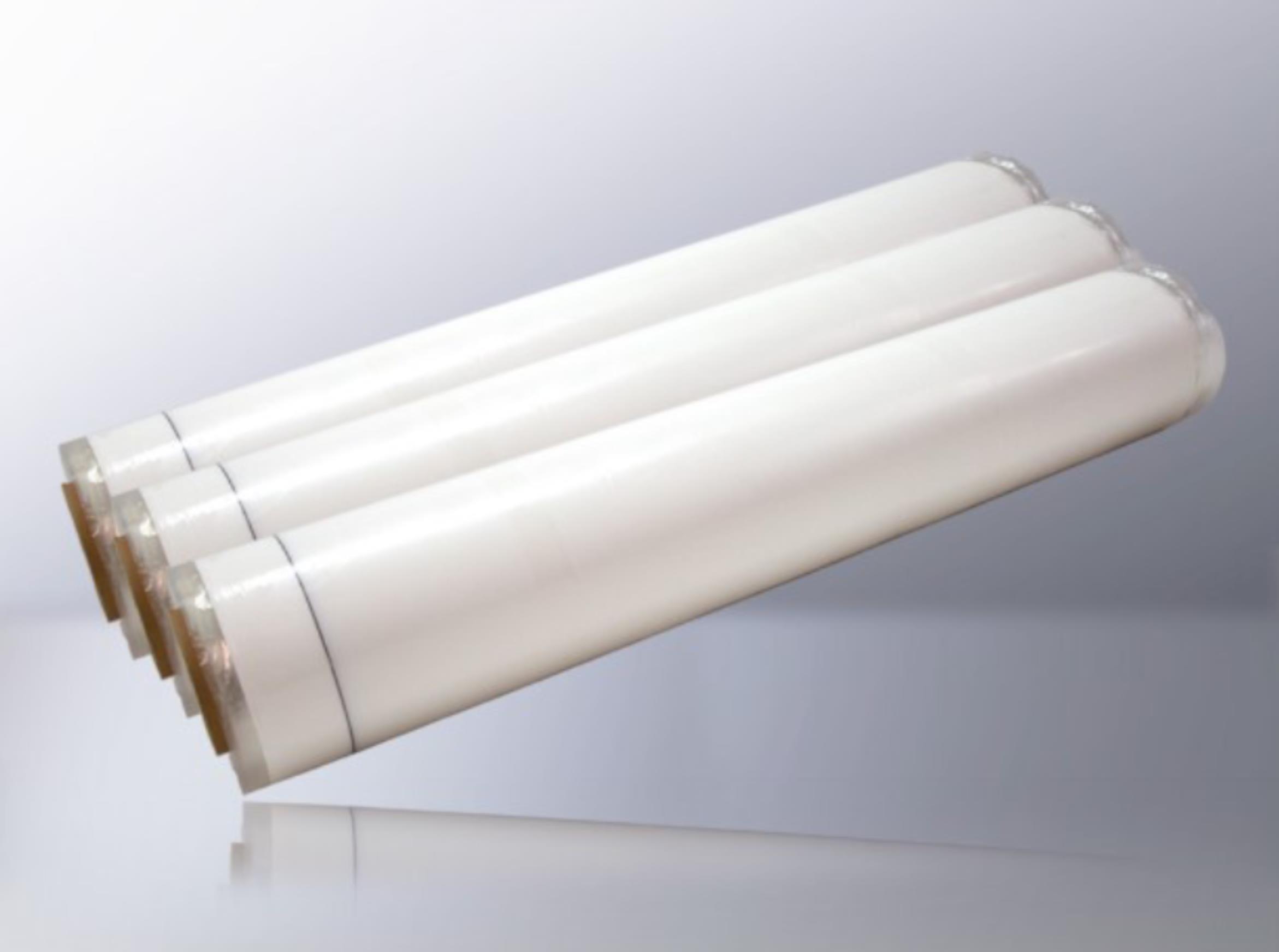 Protective Seams
PreTak offers versatile seam options for hydrostatic, non-hydrostatic and shotcrete applications. Pre-applied factory adhesive edge lap seams just need to be rolled with a heavy roller in order to fully adhere for quick and easy application.
But when sites need that extra level of defense, PreTak can be heat-welded for unsurpassed watertight seam performance and ground contaminant site protection.
PreTak is also available without pre-adhered factory adhesive along both sides of the roll for faster heat welding applications. In this case, PreTape is used to apply a PSA surface over the heat-welded seams to maintain a continuous bond to concrete and eliminate any threat of lateral water migration.
Cost-Effective Installation
PreTak's simple system of using sheet membranes for waterproofing makes for quick and easy installation. Just roll it out with the release liner facing the concrete pour, line up the edges and overlap the seams, then remove the release liner and roll to adhere the seams or heat weld when necessary.
PreTak is also available in double-width rolls, an offering unique to EPRO, which reduces the number of seams. This not only reaffirms the performance and reliability of the product, but it also means less labor and increased productivity and efficiency on the job site during installation.
Value That Performs
When put to the test, PreTak outperforms other waterproofing alternatives based on physical property testing.
PreTak may be the low-cost option, but it delivers high-quality protection and value that surpasses more expensive choices.
Applications Suitable for PreTak Pre-Applied Waterproofing Membranes
PreTak is the perfect choice for below-grade waterproofing and is most often used in blindside shoring and underslab applications.
PreTak is also suitable for a variety of critical building envelope applications, challenging site conditions and contaminated soils. The fully adhered membrane is ideal for applications requiring superior protection from both water intrusion, chemical ground contaminants and methane gas.
It's also the most cost-effective solution for brownfield sites. PreTak's easy to install rolls make for an efficient job site when time and money are tight.
And in the City of LA, PreTak is approved as a gas and methane barrier (LARR #26164) thanks to rigorous third-party testing.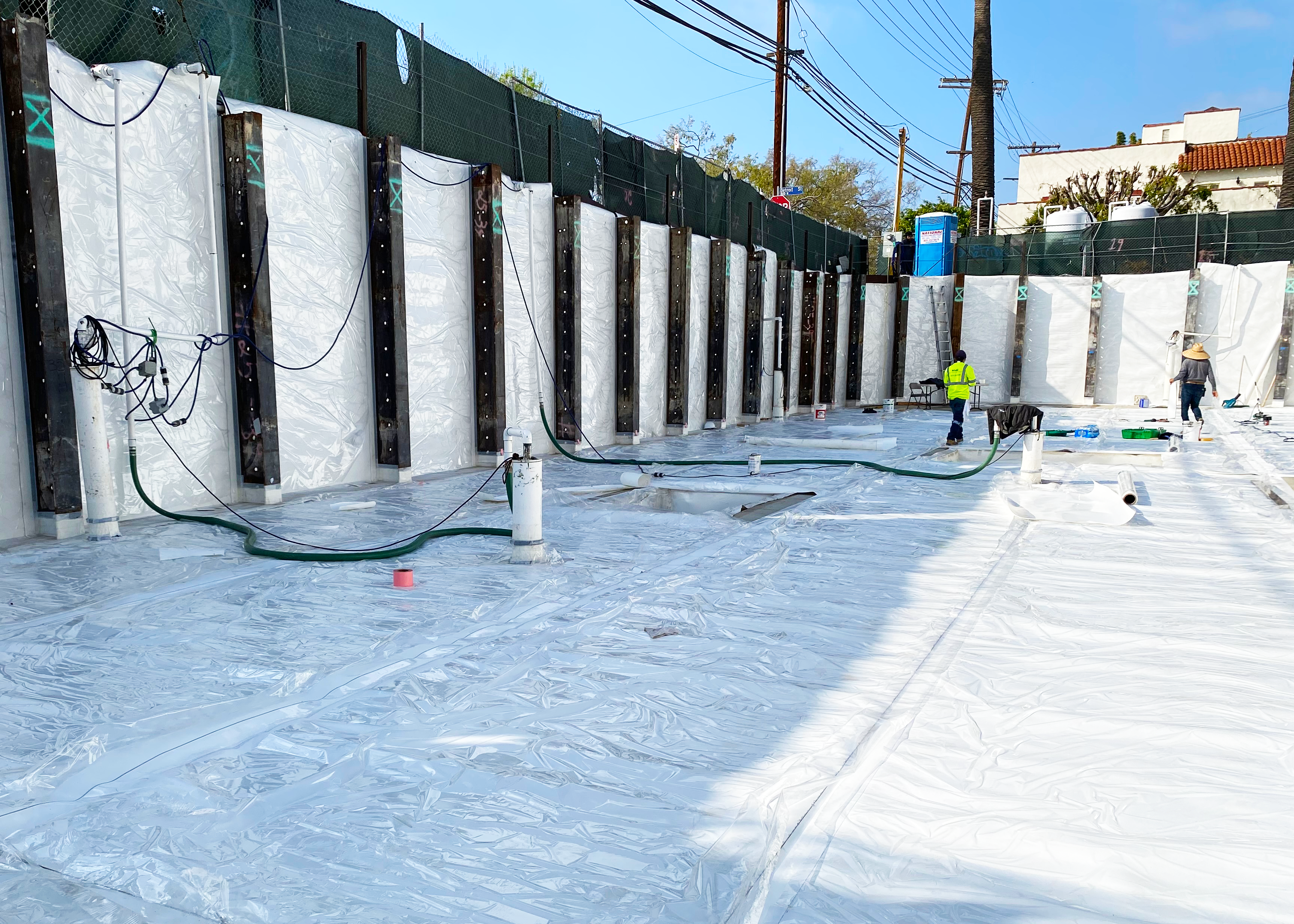 Considerations to Keep In Mind
PreTak is limited to underslab and single-sided formwork applications and is not used for over excavated wall conditions.
Prior to application, substrates must be free from defect, protrusions, sharp objects, relatively smooth and uniform. Careful consideration should be used to limit the number of penetrations and challenging detail areas.
PreTak does not need to be covered immediately, but it shouldn't be left exposed for longer than 60 days. Plan construction sequencing accordingly. The installed membrane should be protected from heavy on-site traffic and should always be inspected for damage prior to concrete application.
What Clients Have to Say About PreTak
"Not only was EPRO PreTak a solid performance choice for this project, it was the most cost-competitive option that we evaluated. EPRO's approved applicator Emerald City Waterproofing was able to provide cost savings to a competing bidder with a system claiming similar performance."
– Roger Woods, Site Superintendent, Pavilion Construction
"EPRO's PreTak 48-mil high-density polyethylene, fully adhered pre-applied membrane is ideal for both waterproofing protection in hydrostatic conditions while offering robust chemical contaminate vapor barrier performance. We were also comfortable with EPRO's history of performance and experience with projects of similar scope and complexity."
– Patrick McMahon, Project Manager, BEE Consulting
"We really liked the wider width rolls. Not only did they really increase our productivity on the horizontal under-slab portion of the project, but they also fit evenly between the soldier piles on the vertical wall sections and allowed for easy detailing to the face of the flange for our back-lagged SOE."
– Noble Waterproofing and Coatings
Get In Touch With an EPRO Expert
For more information on the PreTak waterproofing membrane or any other of EPRO's superior waterproofing and contaminant protection solutions, please get in touch.