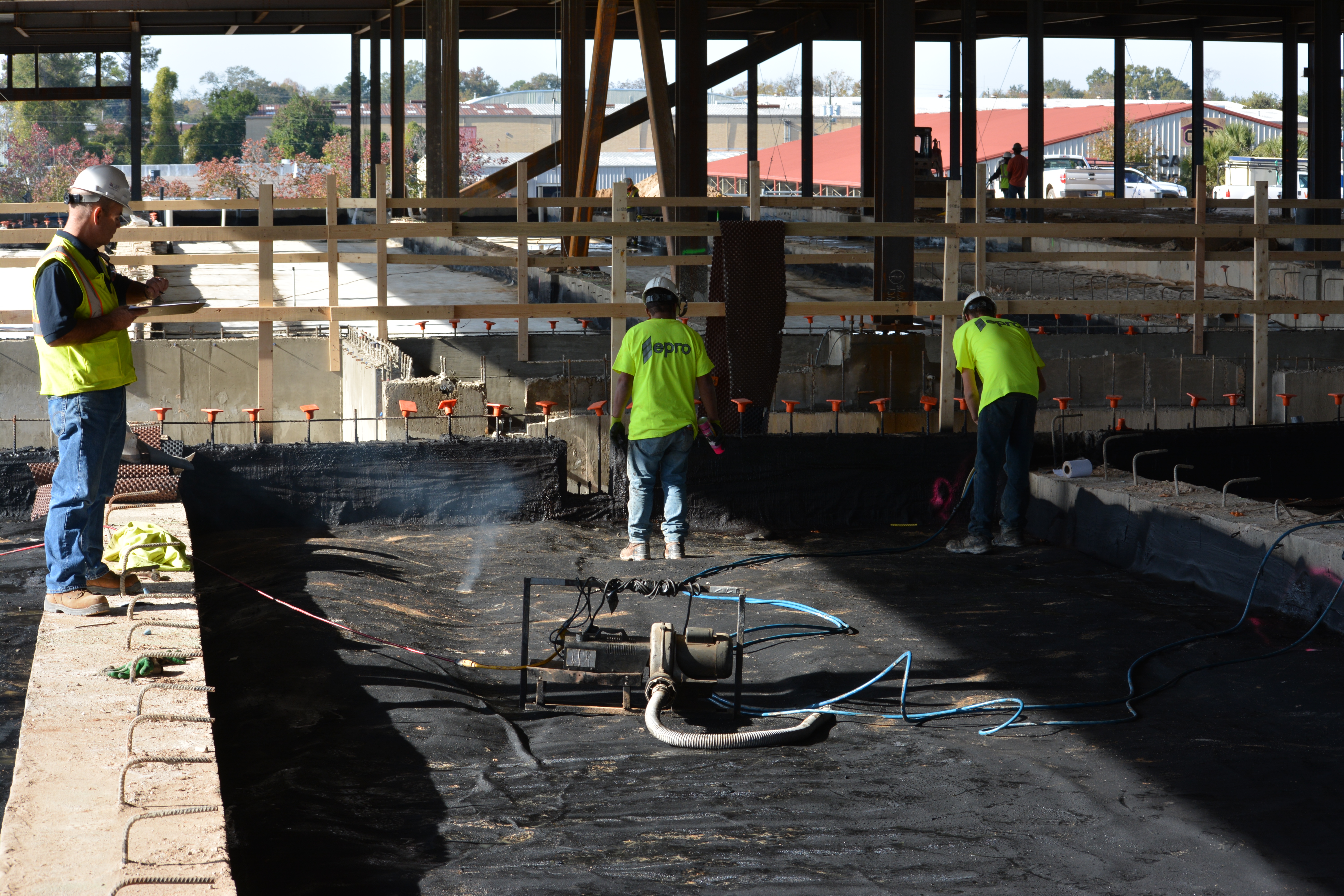 As most environmental and waterproofing consultants know, methane gas, petroleum hydrocarbons and VOCs can migrate into a building if it is not protected by a vapor intrusion barrier system.
A compromised waterproofing and vapor intrusion barrier system can lead to mold, mildew, unsafe air conditions and health issues for the building's occupants. This is why smoke testing is imperative to conduct comprehensive quality assurance & quality control (QA/QC) testing to ensure the membrane is completely sealed and installed per manufacturer specifications.
When it comes to smoke testing membranes, typical QA/QC procedures of a smoke test verify critical areas such as seams, penetrations and transition points. While this is widely considered commonplace in most scenarios, a smoke testing procedure will test the integrity of the entire system using a smoke test machine.
Using a smoke test machine helps you achieve the most detailed inspection results because it gives you complete verification that the entire membrane is continuously sealed with no breaches present.
Why Smoke Testing Machines Are the Ideal Choice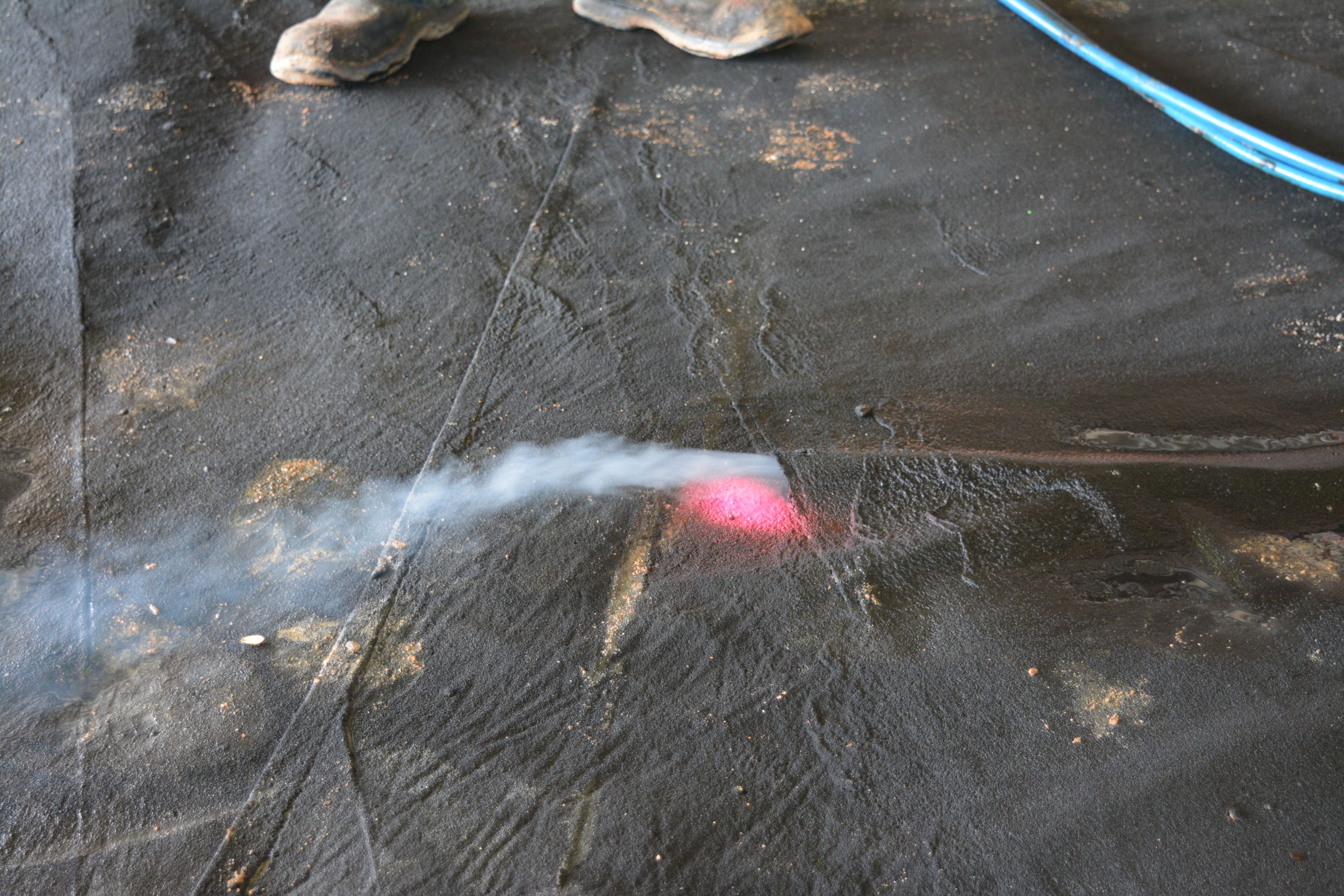 Smoke testing machines are most often used for below-slab membranes to test the integrity of the membrane. The machine forces non-toxic smoke-filled air (fog) underneath the entire membrane. The smoke travels under the membrane and will visually identify an imperfection in the membrane, basically identifying non-compliant areas not identifiable with the human eye. This type of smoke test will dramatically demonstrate the membrane is properly sealed and allow for quick repair of areas that are not.
Not only are smoke test machines a quick and easy way to pinpoint leaks in a building envelope, but they are also becoming the preferred method of testing waterproofing and vapor intrusion barrier systems and are required by some state environmental and regulatory bodies.
The basic method for smoke tests as part of a QA/QC evaluation is as follows:
Measure/record date, time, temperature, humidity, barometric pressure, wind speed/direction, cloud cover.
Assemble and connect the smoke testing hose onto the vent riser if one is present, or by cutting a testing port into the base sheet and inserting the smoke test hose.
Activate the smoke generator/blower system and pump smoke under the membrane. Monitor membrane for lifting.
Maintain operation of smoke generator/blower system for a minimum of 15 minutes following purging of the membrane. Thoroughly inspect the entire membrane surface.
Use solvent-free fluorescent orange paint to mark/label any leak locations. Also mark/label leak locations on the floor plan.
Make the noted repairs until no more smoke is visible.
When the smoke test is complete and the testing port is no longer required, the appropriate repairs need to be made.
Prepare an inspection report that includes the date, who performed the test, number of leaks identified, and distribution of leaks identified (i.e. tears, seam leaks, boot leaks, etc.).
Repeat steps 3–8 as necessary to confirm the integrity of the membrane.
For more comprehensive instructions and systems specific protocols, contact EPRO.
Smoke Test in Action: Grocery Store Chain Case Study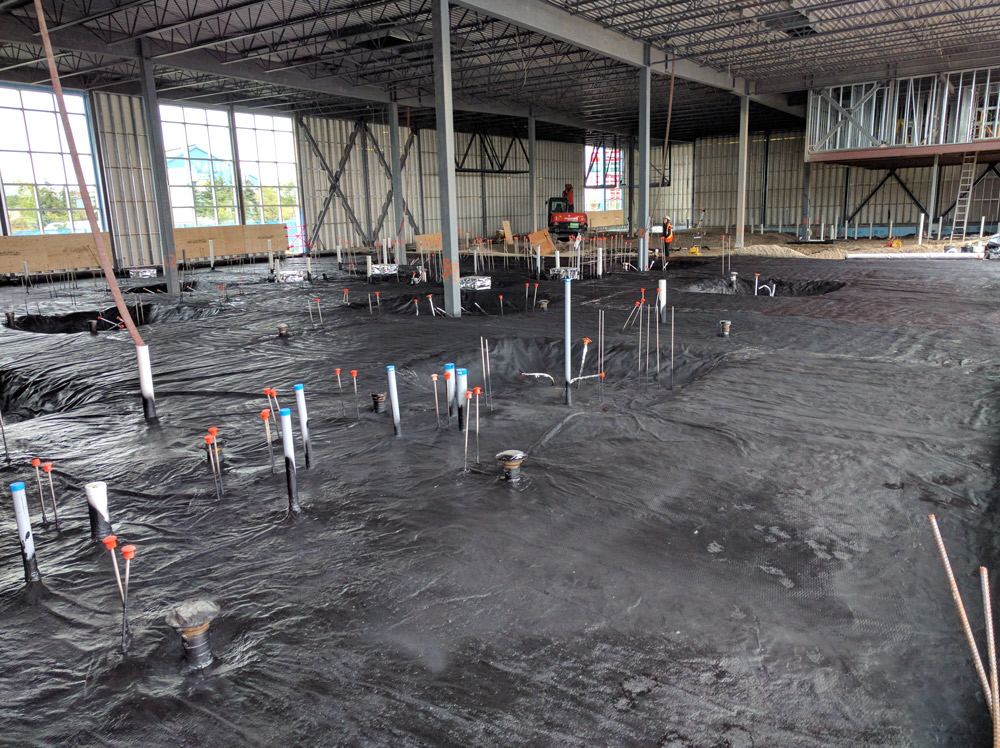 The Ontario grocery store chain site is a solid example of how smoke test machines were able to clearly detect the most dangerous leaks and repair them during the testing process, guaranteeing an air-tight installation that saved time and money during the construction process and beyond.
When a 20,000 square-foot grocery store was built in Eastern Ontario, the site chosen was once part of the Estuary of Ashbridges Bay, an area that had several identified risks related to unknown quantities and types of material that had been previously deposited there.
Investigations by the property owner's consultants identified elevated levels of methane within the soil that would require mitigation. As part of a risk management plan, Titan Environmental, in partnership with Aims Environmental, was selected to provide an engineered design and installation of a gas vapor barrier and passive sub-slab venting system to mitigate risks of methane and other vapors from entering the building envelope.
The E.Proformance Gas Vapor barrier was selected for use on this site. This barrier forms an extraordinarily strong connection under the concrete floor slab ensuring the barrier maintains its connection and position and does not sink or settle as soil subsides during settlement. When it was time to test the integrity of the membrane, EPRO's Smoke Test Machine was chosen to perform the inspection.
"The attention to quality control was impressive and the smoke test found every hole in the liner which was repaired the same day. A lot of curveballs were thrown at these guys, and they worked with us through everyone," said Kyle Kazda of VLC Contractors.
Choosing the Right Smoke Test Machine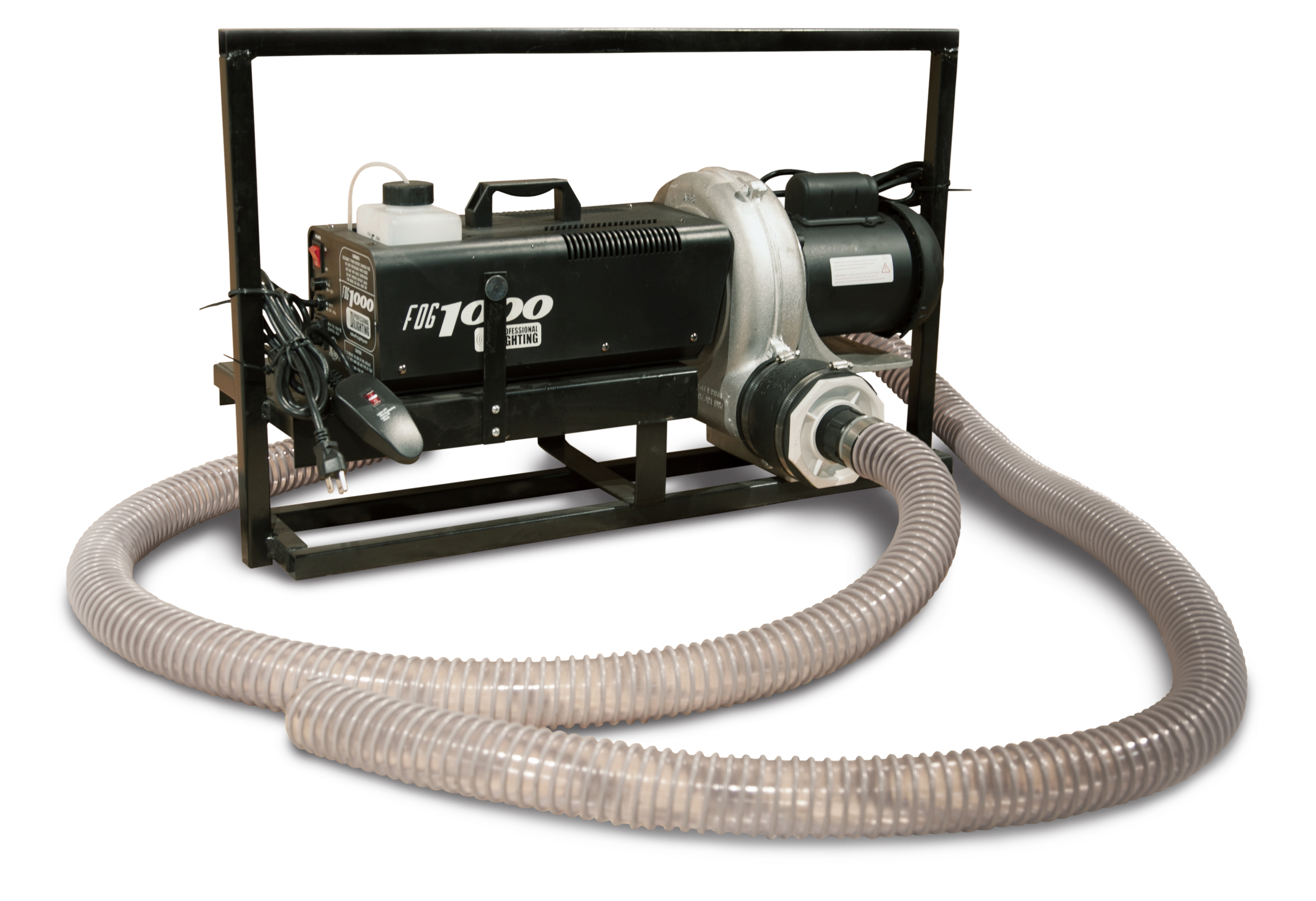 While there is the option of using a basic fog machine to inspect for leaks and imperfections in waterproofing membranes, there are smoke test machines specifically designed for this purpose. These machines will have blowers designed to maximize the amount of fog that is pumped under the membrane and can detect the most minute installation imperfections.
EPRO's Smoke Test Machine is exclusively made to conduct smoke test quality control procedures for EPRO systems. This custom fabricated 3,000 CFM non-toxic fog machine connects to a high-volume, low-pressure blower to pump smoke underneath the membrane system. Its secured steel stand makes site transport easy, keeps the components off the ground and limits contact with the membrane system.
Contact an EPRO Representative Today
Performing QA/QC checks on your project can be difficult if you aren't using the best, most accurate equipment designed for the job. EPRO has experts who are ready to help with answers about choosing the best waterproofing and contaminant systems and ensuring their integrity through proper testing.
Have questions or want to learn more? Reach out to EPRO about collaborating on a project.