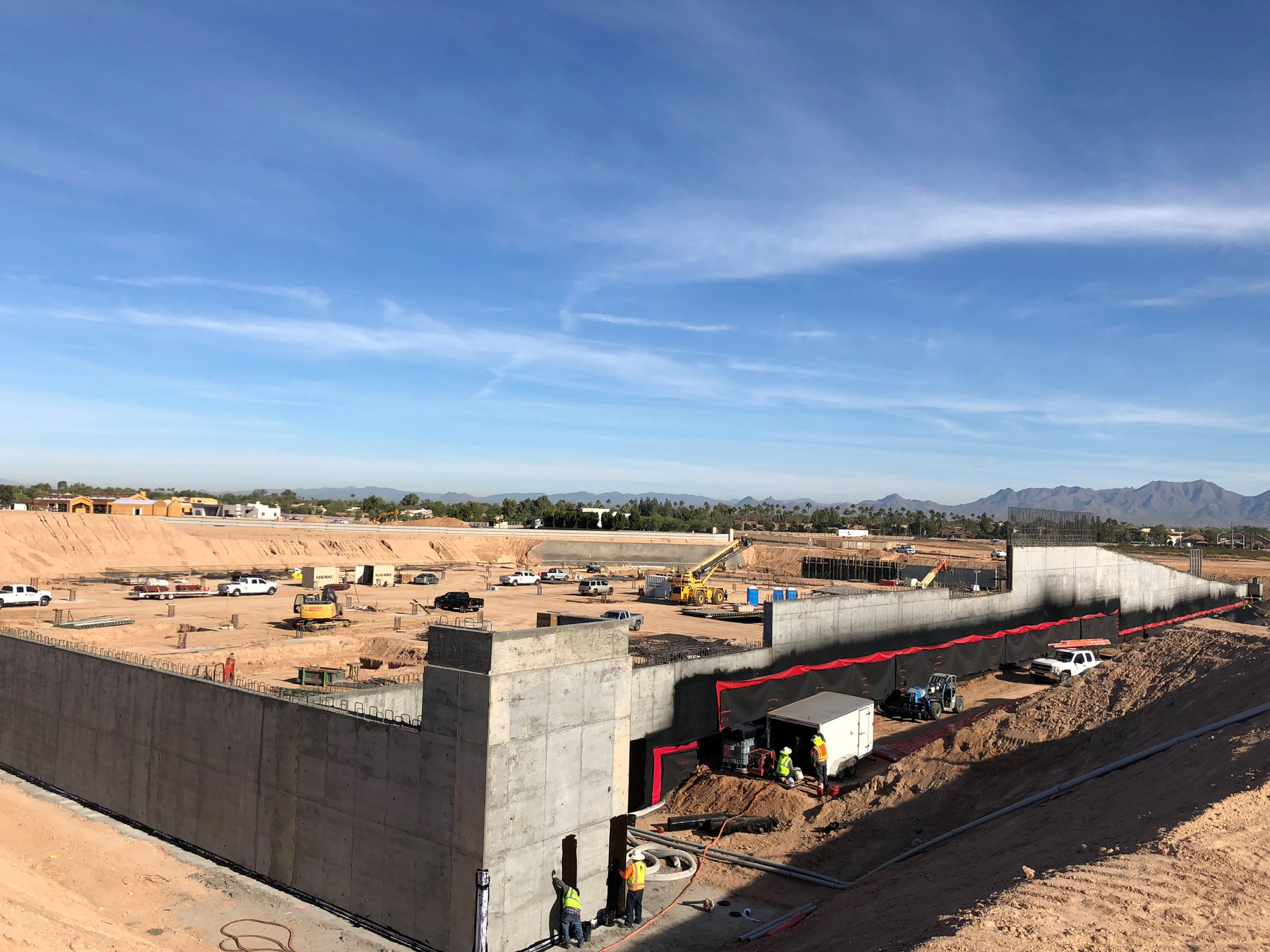 Located in the aptly-named Paradise Valley, Arizona, the Ritz Carlton hotel and residences combine a luxurious hotel with high-end living. The project encompassed a 200-room Ritz Carlton resort surrounded by 91 single-level villas and 45 single-family homes.
The hotel was designed to include the longest pool in North America, spanning more than 400 feet with a 30,000 square foot spa featuring indoor and outdoor treatment areas.
Guests can enjoy a state-of-the-art health and fitness center, both indoor and outdoor meeting event spaces, a citrus orchard, a seasonal garden harvested by on-site restaurants, walking paths and a grand lawn.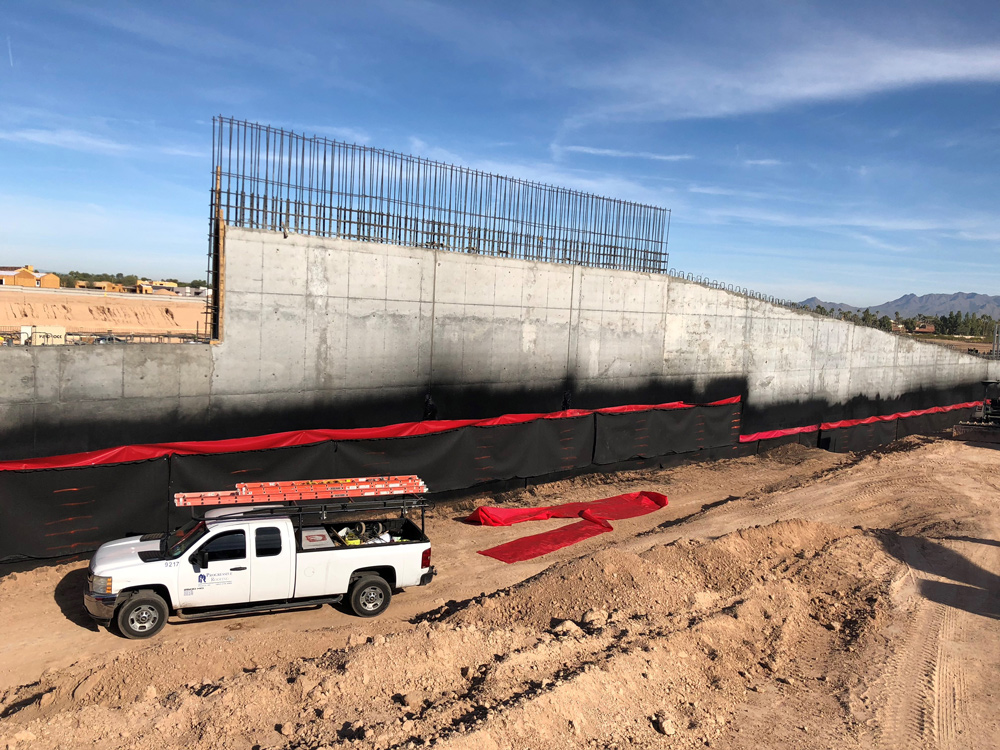 Five Star Development, the project developer, wanted to make sure they preserved the natural beauty of the area so they proposed underground parking facilities. To meet a tight construction schedule, the two proposed garages had to be built simultaneously.
However, this move meant the original specified waterproofing product, a peel and stick membrane, was not going to the an ideal solution; it would take too much time to install. To stay on deadline, Five Star chose EPRO's E. Protect Wall Protection System for the perfect fluid-applied waterproofing system.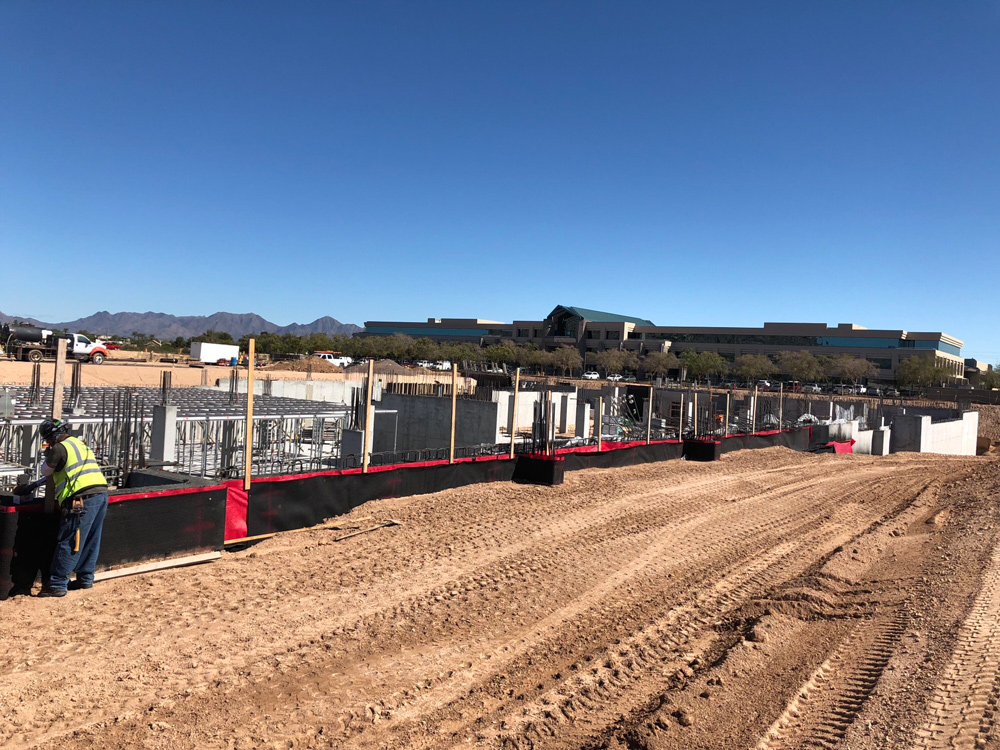 "The General Contractor saw the value in using EPRO's e.spray fluid-applied system over the competitor's sheet goods because of its ability to be applied on green concrete (uncured concrete), which helped speed up the construction schedule," says Tom Shuey, EPRO manufacturer's representative, Section 7 Marketing.
At one story below grade, EPRO's E.Protect Wall system, made up of three layers (e.spray 80 mils, e.shield 115, and e.drain 6000), was used to waterproof and protect the space. In
total, 60,000 square feet of product was applied over this site.
"An additional benefit is that the monolithic final product is fully adhered to the concrete and doesn't have seams in which there is a greater chance for failure."
EPRO is also able to provide robust warranties for all its products and projects, including the Ritz Carlton project.
Tom says, "The owner was extremely pleased with the fact that they could get an extended 20-year labor and material warranty with the EPRO system. It was a benefit to the system and was maybe not possible to achieve with the original, specified product, which was not by EPRO."
Tom Shuey and the rest of the team were incredibly impressed with the system. "The e.spray is a water-based spray-applied polymer-modified asphaltic emulsion that utilizes a proprietary catalyst that helps it cure quickly and allows for faster production times," Shuey adds.
"The waterproofing crew for Progressive Roofing was very pleased with the application rate and are having no problem keeping up with the schedule on this massive project."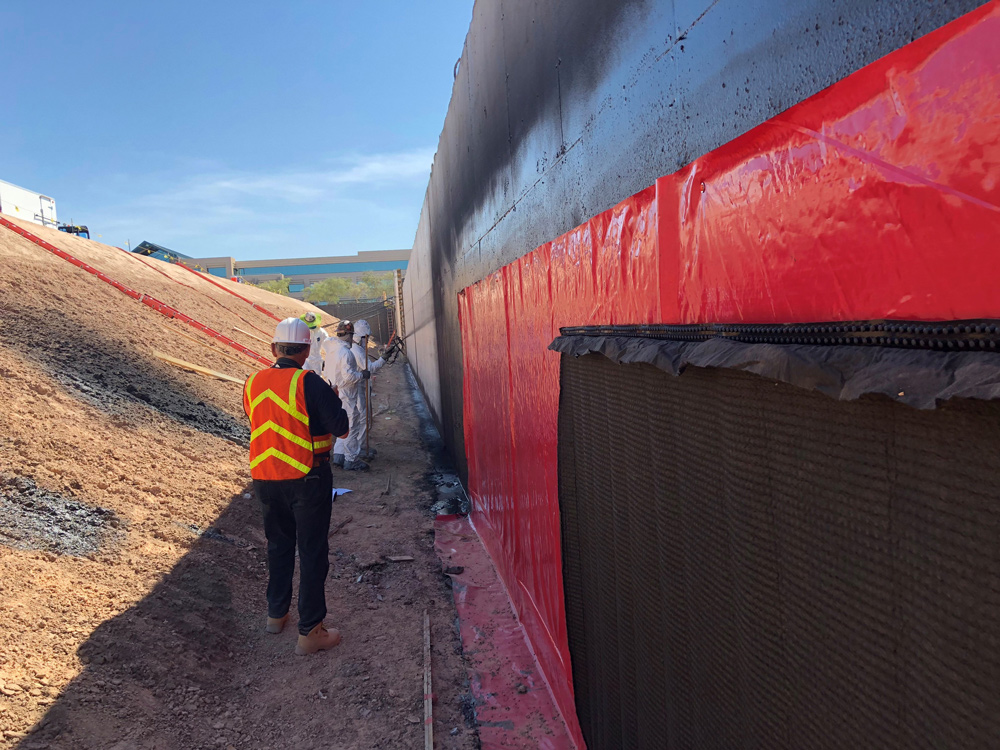 The E.Protect Wall system is ideal for below-grade building foundations that require underslab waterproofing protection but have site conditions or budget considerations that might not require an additional layer of bentonite protection.
It can be used in conjunction with other E.Series systems and is designed to handle a wide variety of positive side-wall conditions while providing enhanced protection against common backfill materials.
It is appropriate for all different types of over-excavated wall construction, two-sided formed walls, single-sided shotcrete, precast concrete, insulated concrete forms (ICF) and concrete masonry units (CMU).
The E.Protect Wall system has several benefits:
Redundant waterproofing protection.
Provides the highest level of chemical resistance to a wide range of contaminants found in soil and groundwater.
Seamless.
Complete mechanical bond with vertical foundation walls.
Installs quickly with less weather sensitivity than peel and stick systems.
Designed for over-excavated walls of any depth.
EPRO also offers a wide range of warranty options for its E.Series systems, including a No-Dollar-Limit labor and material warranty.