Whether your construction project has a below-ground level space utilized for parking, storage, tunnels for services, utility rooms or communication conduits, this area's performance is vital for function of the building and the physical integrity of the entire structure. It is part of the building's foundation and ensuring it is free from water damage using below-grade waterproofing membranes can save you thousands.
Below-grade waterproofing products are a smart solution to ensure your buildings are dry and safe. Understanding the entire below-grade waterproofing process and which products to use is of critical importance for transforming beginners into confident and knowledgeable experts.
After reading this article, knowing precisely how to protect below-grade underslab will feel like a walk in the park.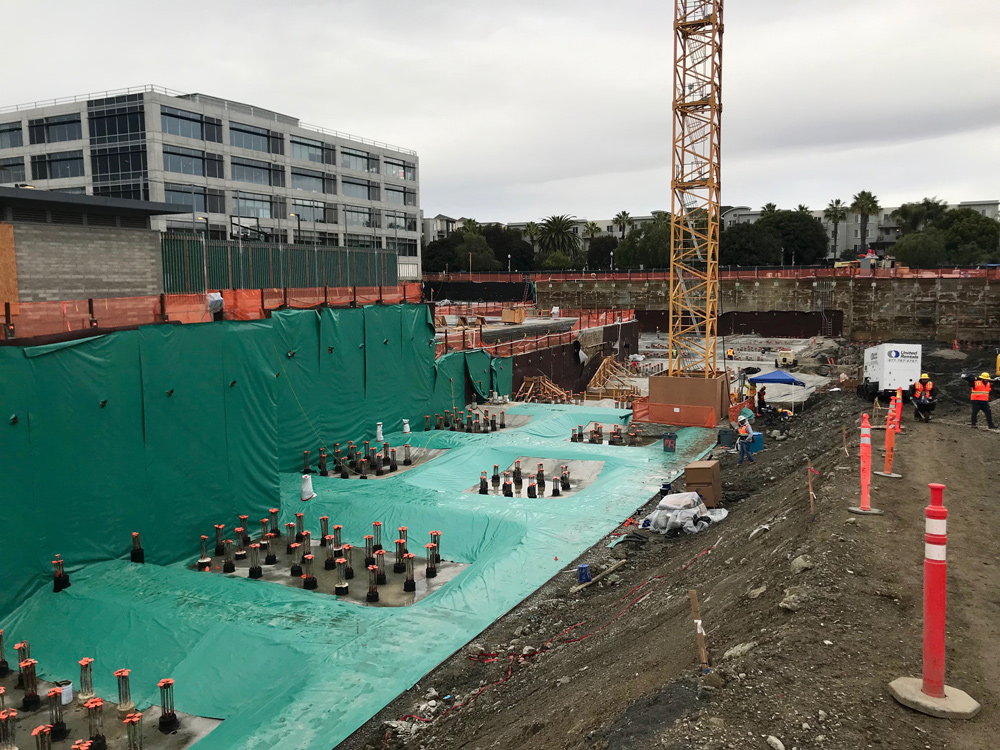 What Is Below-Grade Waterproofing?
Below-grade waterproofing is the construction process of applying coatings and membranes to the walls of a building's foundation below ground level. When pairing effective, below-grade waterproofing with water management techniques, it keeps the below-grade building envelope leak-free and reduces life-cycle costs immensely.
Why does it need to be done? Concrete and shotcrete are porous materials, and over time, they can crack once the building has settled or from water-exerting pressure on the below grade foundation. If a building is built on a site with underlying contamination, hazardous conditions can be created when methane gas, or vapors contaminated soil and groundwater can migrate through concrete imperfections.
If you place a barrier between the concrete and the surrounding earth, it can prevent water infiltration and resist harmful contaminants from entering the structure — if the barrier is robust enough. That's why finding a high-quality below-grade waterproofing product is so important.
Some building sites are complex and difficult to navigate. For example, a commercial apartment in Los Angeles had the Alquist-Priolo Earthquake Fault zone running through the property. The waterproofing system had to be carefully detailed around pipe penetrations and several pits for elevators and utilities. EPRO assisted the design team in finding a solution and making the project a success.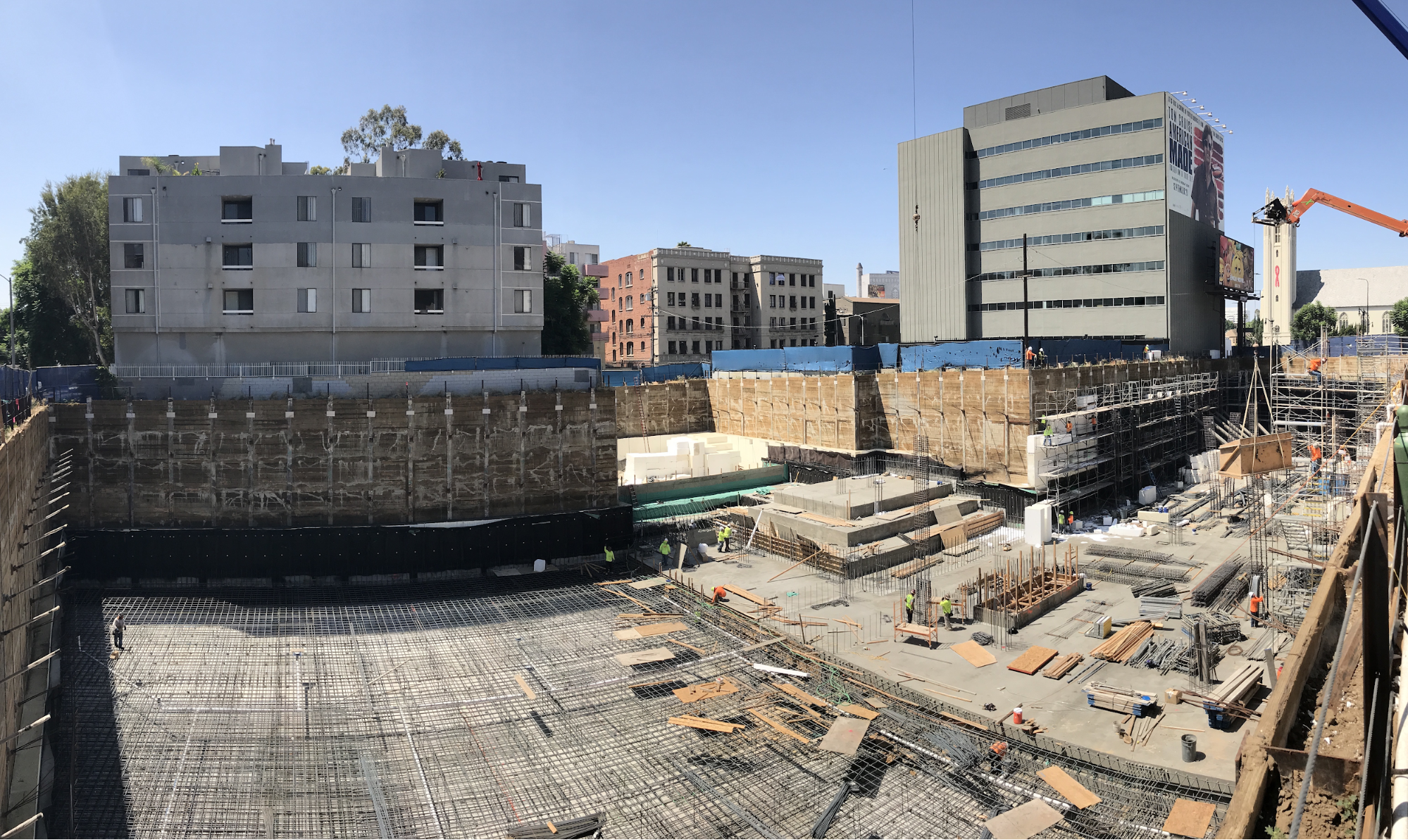 Features of Below-Grade Waterproofing Membranes
There are two dominant types of membrane systems for waterproofing below-grade areas: Prefabricated sheet membrane systems and fluid-applied membrane systems.
Prefabricated sheet membrane systems can entail bentonite, modified bitumen sheets, elastomeric sheets or thermoplastic membranes.
Fluid-applied membrane systems can be cold liquid-applied, hot liquid-applied or single component.
There are three different application processes for waterproofing membranes: positive side waterproofing, blind side waterproofing and negative side waterproofing.
Positive side (post-applied) waterproofing requires access to the outside face of the building and is installed after the wall has been built. This isn't always possible, which is where blindside and negative side waterproofing comes in.
Blindside (pre-applied) is also installed on the outside face of the wall or building foundation but is installed before the wall is built, though can be difficult to apply.
Negative side waterproofing is done when the building is constructed and positive side waterproofing is not an option, so the membranes must be applied to the inside of the building, which isn't always as reliable.
There are important factors to consider when figuring out which product, application and membrane system you should use. You need to take into account your building site's:
Construction methodology
Depth to groundwater
Presence of contamination
Temperature limitations
Drainage
Insulation
Structural integrity
Building codes
Detailing
Penetrations
Cracks
Expansion joints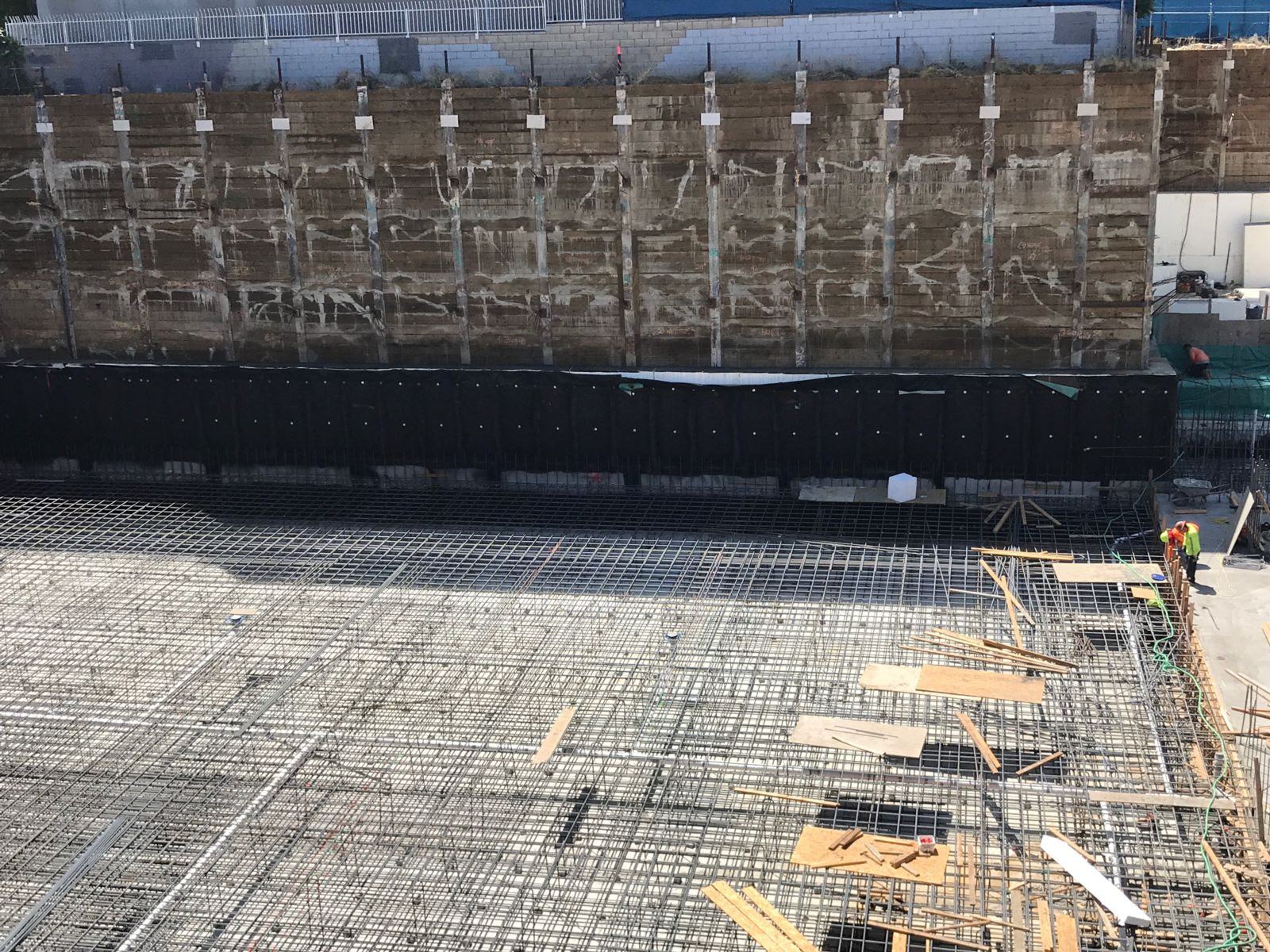 Why Quality Matters
Below-grade structures often present architects, consultants, contractors and builders with significant challenges. However, regardless of site conditions or construction methodology, EPRO below-grade waterproofing and contaminant protection systems get the job done right.
EPRO provides both prefabricated sheet membranes and fluid-applied membranes.
EPRO e.series below-grade waterproofing systems exemplify the principles of redundant field-installed composite design for the highest quality you can achieve in protection and constructability. EPRO's team works with teams, site conditions and preferences to offer the best solution for each and every project.
EPRO also provides pre-applied sheet membranes for blindside and pre-applied applications: PreTak and NovaTak.
Here are some of EPRO's products that can help make your next project a success:
Below-Grade Underslab Protection Systems
These below-grade pre-applied underslab protection systems are designed to provide the highest level of building protection available to fend off hydrostatic conditions, chlorinated volatile organic compounds and petroleum hydrocarbons. All of EPRO's product lines combine sheet membranes and fluid applied membranes into one individual system to deliver the highest performance possible.
There are four options in this series: e.Proformance M, e.Proformance, e.Protect and e.Protect+. They are designed for structures of all foundation times, and represent EPRO's ability to scale systems to meet the challenges of any site conditions.
Pre-Applied Composite Waterproofing Systems
EPRO Shoring Systems provides pre-applied blindside vertical protection against perched water, groundwater or nuisance water and protects against the lateral migration of water, as well as, contaminated vapors and methane gas.
There are four options in this series: e.Proformance Slipsheet, Proformance, e.Protect, e.Protect+. These are specifically designed for various complex shoring applications including back lagging, soil nail, secant walls, sheet pile, internal rakers, shotcrete, poured walls and soldier pile.
Pre-Applied Sheet Membrane Systems
EPRO's PreTak is a pre-applied sheet membrane for blindside vertical wall waterproofing and pre-applied underslab waterproofing and methane gas protection. It utilizes a high-density polyethylene (HDPE) sheet that, once installed, provides a tough and durable waterproofing membrane. Combined with a Pressure Sensitive Adhesive (PSA), PreTak becomes fully adhered when freshly placed concrete or shotcrete is applied directly to it, eliminating the potential for lateral water migration.
NovaTak is a highly durable, non-vulcanized butyl rubber membrane that is very easy to install due to its flexibility and ability to conform to all types of prepared substrates. Made of 60 mil pre-applied sheet waterproofing, it is specially formulated to create a chemical reaction that ionicly fuses the butyl rubber membrane to freshly placed concrete, thus creating an inseparable integration between NovaTak and the concrete substrate.
Both deliver superior performance in harsh conditions without the need for specialized installation.
Below-Grade Over Excavated Wall Protection Systems
EPRO's Below-Grade Over Excavated Wall Protect Systems also provide vertical protection against perched water, groundwater or nuisance water and protects against the lateral migration of water, as well as, contaminated vapors and methane gas.
In this series, there are three options: e.Proformance, e.Protect, e.Protect+, which are designed for positive side application to freestanding vertical walls that are made from different materials: cast-in-place concrete shotcrete, ICF forms, and CMU block, .
HotDeck™
HotDeck™, is a hot fluid-applied asphaltic membrane waterproofing system. It features a 215 mil reinforced layer of HD.membrane that cures to form a fully-bonded, thick, seamless and durable waterproofing membrane. This is ideal for split-slab deck applications, pedestal paver decks and vegetative decks.
Contact an EPRO Representative Today
Choosing the right waterproofing system can be difficult. But EPRO has experts who are ready to help. Do you have questions or want to learn more? Reach out to learn more about collaborating on a project.